A Real Sleep Solution..... for All Ages
Introducing our Lulla Doll "Alternative"....

The "Kippin" and "Sound Spa" Value Pack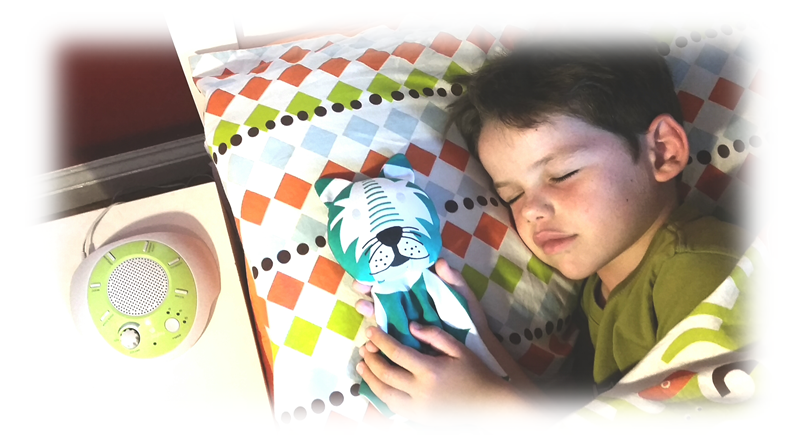 The "Lulla Doll" is a Nordic sleep phenomenon that took the world by storm in 2016. There have been many success stories reported, and even with a price tag of $99, these dolls have sold out many times. Yet the Lulla Doll uses basic childhood sleep principles that have been used for generations.
In short, sleep experts from around the world have long agreed that
- babies and children sleep better with a familiar comforter, that has a soothing texture and smell,
- babies and children fall asleep faster, and stay asleep longer when a consistent, low-frequency, background noise is playing.
At snottynoses.com.au, we agree with this research. The idea has worked for our own children, and that's why we have always stocked clever gadgets that feature the touch, smell and sound that babies and children love.
So here is our alternative to a "Lulla Doll".... a great value pack featuring 2 popular products...
- a Kippin Organic Cuddle Blankie
- and the Homedics Sound Spa White Noise Machine.
All for only $75!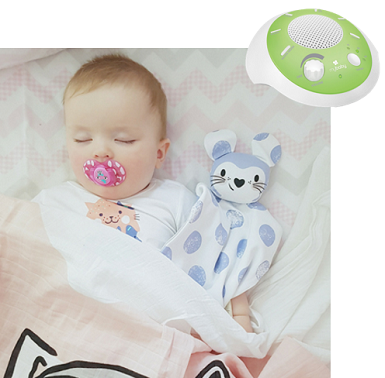 But we think our value pack is even better than the Lulla Doll, for a couple of reasons....
The Kippins Organic Cuddle Blankie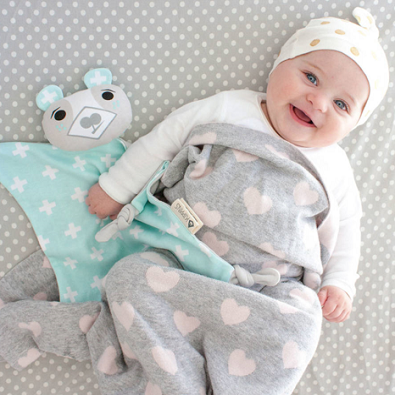 - comes in a range of great designs and colours. Choose from 8 gorgeous creatures.
- the animal characters are super cute, with a pillow soft head and a flat body
- the Kippins characters have more appeal to a wider audience of boys and girls than a traditional doll
- the Kippins body is much more flexible, with tactile tags that children love to touch and rub
- the Kippins arms and legs can have a dummy or teether looped through
- the Kippins are super easy to machine wash and tumble dry.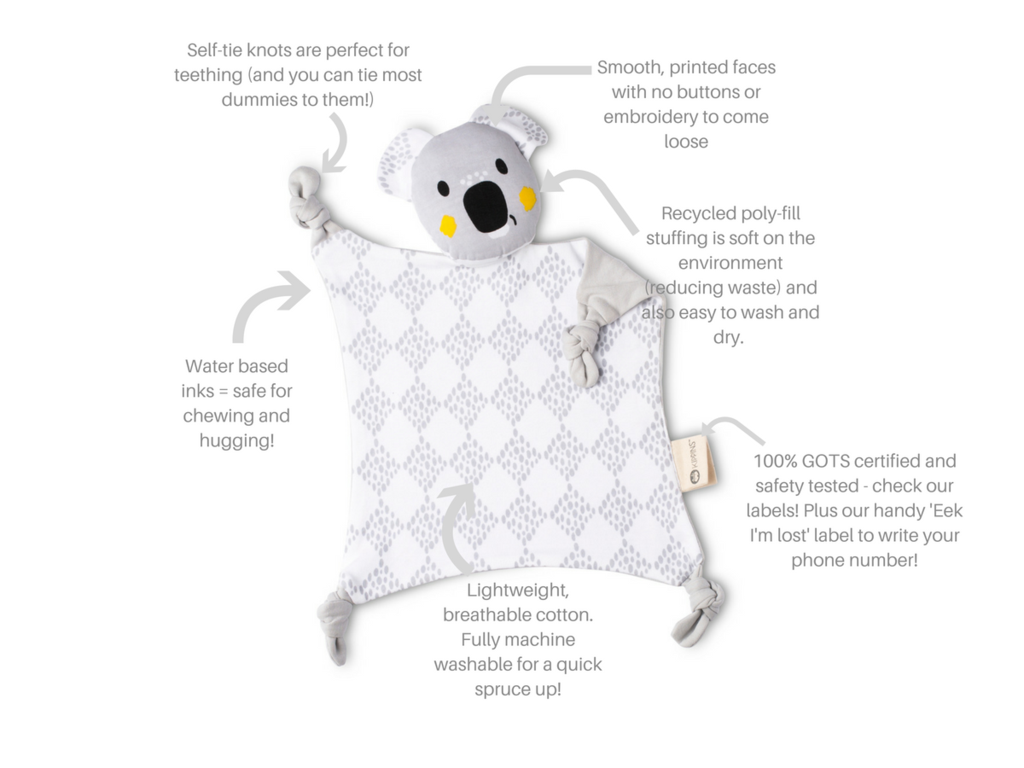 More information about the Kippins range:
- Each Kippin Organic Cuddle Blankie has been designed with a simple, graphic print - a high contrast pattern that babies love! No two Kippins are exactly alike!
- Gentle on skin and planet friendly, made from the softest 100% organic cotton and hand printed using organic ink.
- safety tested in Australia to use from birth.
- Ethically produced - certified by Global Organic Textiles Standard (GOTS)
- Each Kippins' arms and legs can be tied and looped through a dummy, so the dummy doesn't get 'lost' in the night.
- We recommend washing your Kippin prior to use, and even letting the Kippin 'sleep' with Mum and Dad for a night or 2, to get that familiar smell that little ones find so comforting. Babies and toddlers come to love the distinct smell of their Kippin buddy
- It's a good idea to buy 2 of your favourite Kippin design, in case one accidently gets lost or dirty.
- Kippins are Australia's most popular organic cuddle blankie, designed and owned by a Brisbane based family. They are now stocked in over 17 countries and regularly sell out in Australia.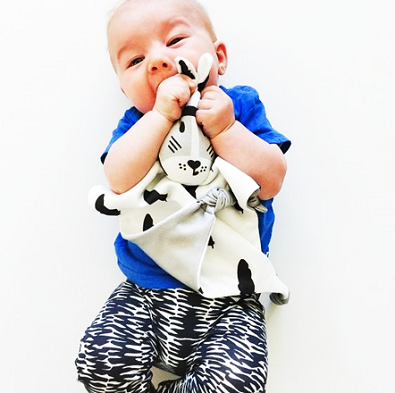 The Homedics Sound Spa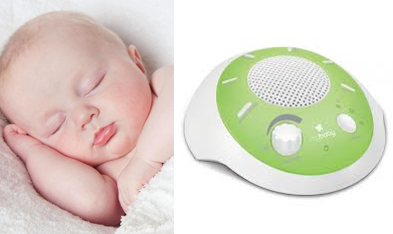 - has 6 soothing sounds (heartbeat, white noise, thunder, ocean, summer night and brook) whereas the Lulla Doll only has heartbeat and breath.
- full range of volume, from whisper quiet to loud and powerful (to mask a thunder storm or other disturbing sound). Adjust as needed. No more disturbed sleep from loud noises.
- choice of battery or electric power (electric power will go all night!!)
- This "Mum-approved" product will help your child drift to sleep, and stay asleep without interruption.
- Easy to use, and simple buttons to press.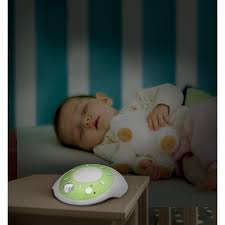 A Note about 'White Noise':
- Sleep advisers around the world endorse the use of 'white noise' style machines as a calming, consistent sleep inducer. And millions of parents agree.
- 'White noise' is any kind of constant, low frequency sound. Your newborn is quite used to noise because the in utero environment is quite loud, with heartbeat, fluid, your voice and even the TV sound filtering through. In fact, complete silence can be more confusing to a newborn than background noise.
- One of the greatest benefits of white noise machines is that they help babies fall back to sleep if they wake up. This means their nap times will last longer and they will be less likely to fully wake in the night. The consistent use of a familiar sound also acts as a 'cue' that sleep time has arrived.
- Even if you've never used white noise with your older baby, toddler or child, you will be amazed at how soothing they find the noise, and how quickly it becomes a favourite part of their sleep routine.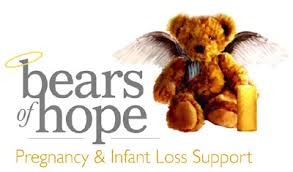 We love to give back to the community.
$1 from each order will be donated at the end of the month. Thank you x
____________________________________________________________________

Postage and Handling:
Your Kippin/Homedics Sound Spa Value Pack will be lodged with Australia Post or Sendle.com Couriers on the same business day (if ordered before 12pm EST) or the next business day, GUARANTEED.
Don't forget to enter an AUTHORITY TO LEAVE message at the checkout, otherwise the courier will leave a calling card to arrange re-delivery.
Standard postage: $7.50
Express Post: $14.50
Special note to our beautiful customers in WA, NT and TAS and other regional centres- standard post can take more than 6 business days from Brisbane, so we urge you to consider Express Post options, to ensure speedy delivery of your parcel.
Local pickup from Woolloongabba - please text 0403 818440 to arrange your collection.

snottynoses.com.au is a proud member of the AusMumpreneur Network
Our Business - Your Confidence:
Customers trust their purchase from us.
We have sold 100s of these practical gadgets and we value each every sale, by offering outstanding customer service, fast dispatch, and a truly brilliant product.
We use these products with our own family, so we understand the importance of safe and effective devices.
Availability:
IN STOCK - Standard delivery $7.50. Express Post $14.50 Free delivery for orders over $150. Free local pick up in Brisbane.