The Best Cool Mist Vaporiser Deal

Sleep Well, Breathe Well, Purify your Car and Home -

If these products don't help your family breathe and sleep better, simply return it within 30 days for a refund*
We know you'll love it!
This amazing Essential Oil Diffuser deal includes

:
- Aroma Bloom 200ml Cool Mist Vaporiser
- Aroma Mod 60ml Travel/Car USB Vaporiser
- 2 Organic Essential Oils (1 x Everyday Range, 1 x premium "Mother and Child" range)
Aroma Bloom Diffuser/Vaporiser
The Aroma Bloom is Australia's most stylish and functional cool mist, essential oil vaporiser.
It offers a unique 5-in-1 functionality - diffuser, ionizer, humidifier, air purifier and night lamp!
Around 8 hours run time on constant mist, 16+ hours on intermittent mist.
The ONLY compact, cool mist range in Australia with built in ioniser. Negative ions eliminate allergens, bacteria and pollen from the air, purify the blood, balance the autonomic nervous system, promoting deep sleep and healthy digestion. Cheaper diffusers do NOT have the ioniser feature.
And as the weather warms up, but the sniffles and coughs linger, it's perfect time to start enjoying the benefits of a cool mist vaporiser - every day and night!
"I love the Aroma Bloom and Child Calming Oil. It changed a 1 hour bedtime battle with my 3 year old into 10 minutes until asleep. I only wish I had it sooner".
The Aroma Bloom diffuser fills with only 200ml of tap water - other brands of vaporisers/diffusers require over 2 litres of water, which makes them difficult and impractical to fill each day.
The Aroma Bloom can be filled with just a single cup - easy!
A few drops of essential oils can be added - 1-2 drops for babies over 3 months and children, 3-5 drops for adults.
Every particle of mist is coated in the healing essential oils, which you can breathe and absorb to aid well-being.
_______________________________________________
Aroma Mod USB Car Diffuser/Vaporiser
**Wood Style Mod Discontinued**
The Aroma Mod 60ml USB Cool Mist Diffuser offers a unique 5-in-1 functionality - that of diffuser, ioniser, humidifier, air purifier and subtle mood light
It uses high-end, eco-friendly, ultrasonic technologies with no heat source and is made from BPA free materials.
It comes with 2 power cords 1) USB adaptor for car or laptop 2) Standard wall power adapter for home/office use.
It fits into most 'expandable' cup holders in vehicles, but not smaller cup holders.
4 hours run time and 60ml of water
3 colours available - WOOD NO LONGER AVAILABLE
"My car has never smelled fresher or felt cleaner. I love that the oils are organic. Immune Boost with peppermint and tea tree is my absolute favourite"
______________________________________________
Now Choose 2 Organic Oils....
Everyday Essential Oils
Winter Rescue Remedy - 15ml - contains a simple, healing blend of organic Eucalyptus (Radiata), Lavender and Tea Tree Oil. Ideal for young children, to promote restful sleep and respiratory health.
Child Calming Remedy - 15ml - contains a soothing, fresh blend of organic Sweet Orange, Lavender, Mandarin and Roman Chamomile. Ideal for young children, to promote a feeling of calm and assist restful sleep.
Sensitive Child - 15ml - contains a calming, nurturing blend of organic Sweet Orange, Lavender, Bergamot, Patchouli, Vetiver and Roman Chamomile. Ideal to support anxiety, behaviour, bedtime restlessness and night terrors. Vetiver is highly recommended by behavioural therapists to support children on the ASD spectrum.
Protection 15ml - Purifying blend of Sweet Orange, Clove Bud, Cinnamon Bark, Lemon, Rosemary, Eucalyptus Globulus. Protects against environmental and seasonal threats and can cleanse and purify the air. It contains organic oils which are known to eliminate harmful bacteria and viruses.
Snooze 15ml - Calming blend of Sweet Orange, Lavender, Geranium, Palmarosa, Bergamot, Cedarwood and Sandalwood. Organic support sleep, soothe and de-stress for children and adults.
Elevate Blend - 15ml - mood uplifting and environment refreshing blend of Sweet Orange, Pink Grapefruit, Palmarosa, Geranium, May Chang. Organic support for fatigue, positive outlook and nervous tension.
Breathe - 10ml - contains a calming and congestion-busting blend of Eucalyptus, Lemongrass, Rosemary, Orange, Myrtle and Cinnamon oils, perfect for respiratory health.
Relaxation - 10ml - contains a calming, peaceful blend of Cedarwood, Palmarosa, Lavender, Bergamot, Geranium and Chamomile Oils, ideal for sleeping.
Vitality - 10ml - contains an uplifting, zesty blend of Cinnamon Leaf, Lemongrass, Rosemary and Patchouli, designed to inspire.
Harmony - 10ml - contains a subtle, centred blend of Sweet Orange, Cedarwood, Bergamot and Geranium, which assists a feeling of ease, positivity and wellbeing.
Romance - 10ml - contains a relaxing, calming blend of Sweet Orange, Lavender, Patchouli, Ylang Ylang and Manderin. Sweet, musky and calm - your house will smell like a day spa!
Focus - 10ml - a fresh, zesty blend, containing Lemon, Rosemary, Geranium, Peppermint and Sage Dalmatian. Ideal for clear, focused train of thought, and to assist concentration. Ideal for using in the office, at work and while studying.
Immune Boost - 10ml - a highly anti-bacterial blend containing Eucalyptus, Peppermint, Tea Tree, Lemon and Laurel Leaf, to help cleanse and purify the immune system.
Positivity - 10ml - an uplifting blend of Lime, Mandarin, Ylang Ylang, non-phototoxic Bergamot and Spearmint, to support clarity and positive outlook.
Sleep - 10ml - a calming blend of Mandarin, Lavender, Sweet Orange, Geranium and Ylang Ylang to assist with insomnia, restlessness and support calmer bedtimes and deep sleep habits.
Stress - 10ml - a soothing blend of Sweet Orange, Lavender, Mandarin, Ylang Ylang, Patchouli and non-phototoxic Bergamot, which may ease distress and anxiousness.
Healing Heart - 10ml - an uplifting and sweet=smelling blend of Patchouli, Sweet Orange, Ylang Ylang, Lavender, Mandarin. Release past upsets so your heart may be full of love, joy and passion again.
Meditation - 10ml - a relaxing blend of Sweet Orange, Patchouli, Geranium, Bergamot, Mandarin. Perfect to diffuse while performing Yoga or Meditation or simply relax and clear your mind of stress and worries in everyday life.
Geranium - 15ml - a floral and sweet aroma, which relieves tension, reduces inflammation and encourages a feeling of calm.
Lavender - 15ml - a soothing, comforting oil, promoting calm and restful sleep and eczema relief, high in antioxidant properties.
Lemon - 15ml - a fresh, zesty oil, aids in cough relief, cleaning toxins from the body, and stimulating lymph drainage.
Lemongrass - 15ml - a fresh, citrus based oil, with antioxidant and antiseptic properties. Kills airborne bacteria and soothes muscle aches.
Orange - 15ml - a light, refreshing citrus based oil to boost your child's mood and immune system. Provides relief from inflammation and relaxes muscles. Highly antiseptic.
Peppermint - 15ml - aids in physical and mental concentration. Soothes respiratory distress and headaches.
Premium "Mother and Child" Oils
Hush Little Baby - Lavender, Sweet Orange, Mandarin, Australian Sandalwood and Chamomile - which offers support for restlessness and distress to assist peaceful settling and sleep.
Sniffles and Cough - Sweet Marjoram, Sweet Orange, Olibanum (Frankincense), Thyme (Linalool Type) and Cedarwood Virginian - which offers support for coughs, colds, congestion and sleep in times of illness.
Pregnancy Calm - Sweet Orange, Lavender, Lemon, Non-Phototoxic, Bergamot, Geranium and Ylang Ylang - which offers support for transition, hormonal balance, emotional stability and calm sleep.
Courage - Sweet Orange, Red Mandarin, Lemon, Lime, Pink Grapefruit Oil, Peppermint and Spearmint - which offers support for confidence, assurance and determination. Great to diffuse in the morning, before kindy or school.
Nurture - Sweet Orange, Patchouli, Geranium and Lavender - support for self-care, connection, enjoyment and happy mood for the whole family.
Intuition - Mandarin, Ylang Ylang, Patchouli, Cardamom, Sandalwood, Jasmine Absolute - open up to your own uniqueness & spiritual abilities as you journey through life.
Essential Oil Dosage and Safety
The manufacturer recommends 1-2 drops for babies and young children, and 3-5 drops for adults - mixed with 200ml of water. They should not be ingested or applied undiluted to the skin.
Essential oils not recommended for babies under 3 months. Aroma Bloom vaporisers can be used with clean tap water for babies under 3 months to purify and humidify the air.
Please consult your health care professional for more advice on appropriate use and dosage of essential oils. Read more information on the safe use of essential oils and young children on our blog.
________________________________________________________
What are the health benefits of using Ultrasonic Vaporisers and Essential Oils everyday?
We have sold thousands of these ultrasonic oil diffusers, and have been blown away by the feedback from customers of all ages. Have you read the reviews at the bottom of the page? Customers report improvements in
- asthma
- congestion
- eczema
- snoring
- sinus
- allergies
- respiratory conditions
- dry skin/dry eyes from heating and air conditioning
- cough and cold symptoms.... and more!
'Cool mist' technology is recommended by health professionals.
There is concern that traditional 'heat/steam' vaporisers (like the Vicks Vaporiser) can produce excess condensation - which settles on walls and soft furnishings, and can potentially cause mould spores to grow in the room and can be ingested into the lungs. Read more on our blog here.
The Aroma Bloom is loved by office workers, who are conscious of the drying effect of air-conditioners and the potential for germs and allergens to be circulated in a closed environment.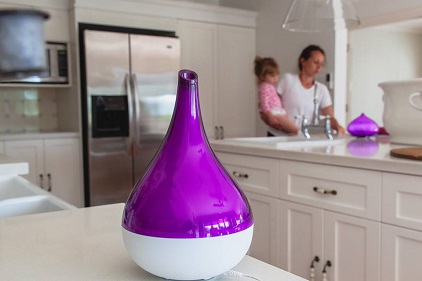 Neutralize cooking smells and fill the air with purifying essential oils.
A stylish addition to your kitchen decor + ultra safe around children, with no heat source.
_________________________________________________________
Unique 5-in-1 Functionality:
Vaporiser/Diffuser: Keeps essential oils in their 100% purest form and is easily absorbed and inhaled into the limbic system.
The 'cool mist' technology produces no heat and no condensation and uses minimal water.
Humidifer: The ultrasonic waves create air moisture to combat the drying effects of heating and air-conditioning.
The moisture releases into the skin without any condensation.
Unlike other humidifiers, these ultrasonic vaporisers use small quantities of water and will not create dampness or heat.
Humidifiers are listed on Essential Baby and Kidspot websites in the Top 10 "Essential Products" for babies!
Air Purifier: The mist releases negative ions, which produce electrostatic reactions with dust and impurities floating in the air, thereby purifying the air, removing allergens, stale air and odours.
Our organic essential oil blends also have antibacterial properties, and as they are dispersed into the atmosphere, will assist to cleanse and purify the air and destroy airborne bacteria.
Ioniser: A UNIQUE feature. The water vibrates at 2.4 million Hz/sec creating negative ions. Other, cheaper diffusers on the Australian market do not have this feature.
They disperse into the air, and help remove dust, germs and bacteria which assists breathing, improves sleeping and enhances general well being.
Night Lamp: The Aroma-Bloom has an LED light which changes in light intensity and is fully adjustable or can be completely switched off. The Wood Look Aroma Bloom has colour changing lights. The Aroma Mod has a subtle mood light around the lid.
We love to support community projects.
$1 from your order helps us partner with Humpty Dumpty Foundation
____________________________________________________________________
Frequently Asked Questions:
Why are Ultrasonic Diffusers the best delivery system to diffuse essential oils?
With the press of a button, you can instantly fill a room or car with the aromatic and therapeutic benefits of essential oils.
Your home or vehicle will smell beautiful, and your overall well being will be improved by breathing and absorbing the essential oils via the fine mist.
You no longer have to worry about naked flames, or if you turned off the diffuser, as it switches off automatically when the minimal water level is reached.
Is it safe to leave the diffuser unattended?
Yes, thes intelligent, energy-efficient ultrasonic diffusers does not use any form of heat, candle or naked flame, so it is even safe around children, the elderly and pets.
We encourage your child to sleep with the Aroma Bloom diffuser on for better relief from cold and flu symptoms.
Most customers use the Aroma Bloom and Aroma Mod daily, in sickness and health, to optimize a healthy environment and purify the air, naturally.
What are the benefits of the Ultrasonic Diffusers over conventional oil burners or vaporisers?
The Aroma Bloom and Mod do not use any form of heat to diffuse the mist/oil into the atmosphere.
By heating essential oils you can severely alter the molecular structure and thus destroy the aromatic and therapeutic benefits of the essential oil.
By using these ultrasonic diffusers, your essential oils will be kept in their purest form and the qualities of the essential oils will be enhanced by the high vibrations.
This 'cool mist' technology is recommended by health professionals, concerned that traditional 'heating' vaporisers (like the Vicks and Euky Bear units) can create condensation and potentially cause mould spores to grow in the room, which can be ingested into the lungs.
I Always Thought Warm Steam Was Best For Croup and Congestion. Is That Not the Case?
There is no doubt that warm steam has medical and therapeutic benefits for children when they are congested or display croup-like symptoms.
However, the current recommendation is that warm steam in a "short burst" is best. For example, 10 minutes in a steamy bathroom, breathing in the vapours and opening the air ways, will certainly ease congestion and croup symptoms.
But warm steam from a heated vaporiser as a long term, overnight routine in the bedroom may not be the best solution, as it creates a lot of condensation, making the room warm and stuffy.
The condensation can make the walls dripping wet, and the moisture can settle on soft furnishings, where mould spores can grow.
Does the vaporiser make a noise?
The vaporisers are whisper quiet, but not silent.
In operating mode, there is a very faint trickling water sound and hum of the small motor.
Most customers find this sound actually enhances the relaxing nature of the unit.
This sound is virtually undetectable during daytime operation, due to the outside, background noise associated with life in the daytime. However, in the quiet of night, the trickling water is just audible.
There is a very faint hum of the small motor, as the unit operates.
Many customers love using our range of Homedics Sleep Sound Machines to create an ambient sound of their choice (eg, rain, ocean, white noise, lullaby), perfect for relaxation and deep sleep.
What Is an Essential Oil ?
An essential oil is a substance that is extracted from the flowers, leaves, stems, roots, bark or seeds of a plant.
It is the concentrated essence of the original medicinal plant, containing the molecular constructs of its therapeutic properties.
Pure Essential Oil Blends are professionally crafted with high quality oils and offer a safe, natural way to support the body through many issues of imbalance and ill-health.
They can also be created to enhance natural balance and compliment many areas of daily life.
The end result is a concentrate combination of essential oils that smell divine and may work wonders.
What is the difference between Essential Oil Essence available for $2 from discount stores and your Organic 100% Essential Oil ?
Essential Oil Essence/Fragrant Oil is available in discount stores for a few dollars - it is predominantly a chemical blend of synthetic essence, which smells like the plant, but is mixed with a lot of carrier oil.
Whilst the smell of these oils might last longer, there is no health benefit in diffusing/breathing this chemical mixture.
Our 100% Organic Essential Oil is a high quality, natural substance with no carrier oil or synthetic properties.
As such, there can be many health benefits by diffusing/breathing this oil. Read more on our BLOG
What are the safety issues relating to essential oils?
Essential oils are a natural, yet powerful substance.
As a general guide, they are not recommended for use with babies under 3 months - this is not meant to alarm parents, but as their skin, respiratory and lymphatic systems are new and still adjusting to the natural world, allergies or sensitivities may not be known. Read more on our BLOG
Essential oils should never be ingested or applied to the skin undiluted.
If swallowed, do NOT induce vomiting and contact the Poisons Information Centre on 13 11 26.
Keep essential oils out of the reach of children. Store below 30 degrees and out of direct sunlight.
Discontinue use if sensitivity occurs.
Health benefits are based on traditional aromatherapy and do not replace professional medical advice.
Consult your health care professional for advice on appropriate use and dosage of essential oils.
Can I use just water in the vaporiser?
Yes! Plain tap water will still offer the humidifying, purifying and ionizing benefits, without essential oils.
Some customers are sensitive to certain oils, so prefer just tap water in their Aroma Bloom.
Plain water is highly recommended for newborns and babies in their bedroom to create an optimized, humidified sleeping environment. Newborns are Obligate Nasal Breathers, meaning they can only breathe in through their nose for the first 4-6 months of their lives. So keeping the air safely humidified is very beneficial, as the added moisture thins the mucus in the sinuses, making it easier to breathe.
It's the perfect office accessory too - stylish and functional
Counteract the drying effects of air conditioning and the potential for germs and allergens to be spread in a closed environment!
_____________________________________________________________________________
Postage and Handling:
We strive to keep delivery costs at a minimum, and only charge the base rate provided by our carriers. Your Value Pack will be lodged with Australia Post or Sendle.com Couriers on the same business day (if ordered before 10am), or on the next business day, GUARANTEED.
We keep all products at our office, ready to go.
Too many online businesses take 3-10 days just to dispatch - not Snotty Noses - we pride ourselves on fast lodgement and dispatch.
Thank you for understanding that once the parcel leaves our dispatch office, we are unable to influence delivery procedures or times.
Standard delivery $8.50. Express Post $18.50. Free standard shipping over $199, so stock up on essentials.
Special note to our beautiful customers in WA, NT and TAS and other regional centres - standard delivery from Brisbane may be more than 8 business days, therefore we urge you to consider Express Post options, to ensure speedy delivery of your parcel.
Same day, free pick up is available from Woolloongabba, Brisbane.

Our Business - Our Guarantee - Your Confidence:
Snotty Noses specializes in Nasal Aspirators, Humidifiers and Vaporizers.
Customers trust their purchase from us.
We value each and every sale, by offering outstanding customer service, fast dispatch, and a truly brilliant product.
The Aroma Bloom range by Lively Living is the most popular and trusted vaporiser/diffuser in Australia.
Check out our awesome new video....
* Satisfaction Guarantee: In agreement with the distributors, Lively Living, the Aroma Bloom comes with a "Satisfaction Guarantee". Purchase and use the Aroma Bloom and if it doesn't help you or your child breathe better or sleep better, please return it within 30 days for a refund of the purchase price, less a $7 processing fee. As the organic oils are consumables, they are not included in the "Satisfaction Guarantee". All details are included on All the Legals page.
We are proud to offer this "Satisfaction Guarantee" for the Aroma Bloom Vaporiser, as we are so confident you will be delighted with its functionality.
Disclaimer: We are not doctors or healthcare professionals or aromatherapists. Our products are offered for sale with general use guidelines provided by the manufacturer. Should any sensitivity to our products occur, please discontinue use. Our products are not intended to diagnose, treat, and/or take the place of medical treatment prescribed by a doctor or medical professional.
The positive feedback for the essential oil diffuser deals continues to grow - read the testimonials below....
Availability:
IN STOCK - Standard Delivery $8.50 Express $18.50. Free shipping for orders over $199. Free local pick up in Brisbane.