Bloom vs Snooze vs Home. What's the Right Vaporiser for Me?
"Hi Snotty Noses, what's the difference between the Aroma Bloom and the Aroma Home? What about the Aroma Snooze?"
We get asked this question dozens of times a week, from customers who are excited about purifying and humidifying the air in their home or office. So I thought it was time to put together a quick comparison to help you make a great choice...
The Similarities
All of our Cool Mist Vaporisers are made in the same factory under the Lively Living Ultransmit brand.
Each design uses the same ultrasonic technology which produces a stream of purified cool mist out the top. They have an inbuilt air purifying and ionizing function, which helps to capture dust and allergens as the mist circulates around 25sqm. These unique features are not included in cheaper diffuser brands on the Australian market, and that's what sets our range apart. It's worth investing in our high quality vaporisers.
Whilst quality is important, value for money should also be a consideration. There are some "air purifier" brands on the Australian market retailing at over $700, and these are large, bulky machines, which often have spare parts and filters that need replacing over time.
Our range of vaporisers only need cleaning once a month, and have no filters or replacement parts, making them excellent quality and great value for money.
Our ultrasonic technology is a world first, and it means water can be turned to vapour without the use of heat. The cool mist from all machines will travel around 25sqm and stay suspended in the air for hours, for maximum absorption through the skin and breath. When we say "cool mist" it actually refers to the tepid tap water poured into the machine. Our cool mist vaporisers will not make the room hotter or colder, so they are perfect to use all year round.
All vaporisers have a light option which can be switched off completely or set to different intensities, colours and brightness.
All vaporisers have a small motor and fan, which vibrates the water and pushed the mist out the spout. The motor creates an ambient hum and the water bubbles, which many people find quite relaxing.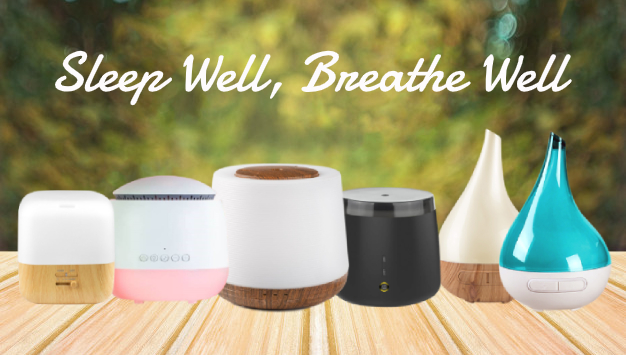 The Differences
The main differences are in the shape, colour, run time and light of the units, which comes down to personal preference.
Aroma Cloud: 700ml, 12 hours high mist, 30 hours low mist
Aroma Dream: 400ml, 10 hours high mist, 20 hours low mist
Aroma Snooze: 300ml, 8 hours constant mist. 18 hours intermittent mist.
Aroma Home: 500ml, 9 hours high mist, 24 hours low mist.
Aroma Elm: 300ml, 10 hours high mist, 18 hours low mist
Aroma Bloom Wood Base and White Base: 200ml, 7 hours constant mist, 16 hours intermittent mist
A difference in advertised operation time can be caused by the mineral content in the water, the outside humidity and temperature of the environment.
Unit Colour and Light Options
All vaporisers can be set to operate the mist, with no light at all.
The Aroma Cloud is a squared edged, white cylinder, with flat top. Unique cut out pattern, which allows light to shine through. Breathing red light, which can be paused on dim or bright. Colour changing light too.
The Aroma Dream is a unique square shape with white thermoplastic lid and wood base. The light can be warm white or rainbow changing and can be paused on any colour, and will run all night.
The Aroma Snooze comes in pink, blue, white and wood-look. It's main feature is a warm, red, melatonin-boosting light. The red light can be set to bright or dim, as required. It also has rainbow changing colour light options. It is the only vaporiser with built in sounds and voice recorder. The combination of these 6 in 1 feature makes it the best choice for newborns, babies, toddlers and children, for a total sleep solution.
The Aroma Home has a unique 5 in 1 functionality. A beautiful natural wood base with a white opaque lid. An internal LED light shines through the white cover. Can be set to your favourite colour or automatically rotate through a rainbow of beautiful colours or can be completely switched off.
The Aroma Elm has a metallic base (5 colours choices) and flat lid with colour changing lights that only shines through the lid.
The Aroma Bloom Wood Look has a dim/bright cream light, but also has an additional function to change the light to rainbow colours - which can rotate and change colour in a cycle, or be paused on your favourite colour.
The Aroma Bloom (with coloured lid, 9 choices) has a light that pulses from dim to bright every 20 seconds, and can be paused on your preferred intensity. For this reason, it's a popular choice for bedrooms, as the light can be set to a very dim, 'barely there', intensity.
More Added Features: The new Aroma Snooze is proving very popular as the ultimate sleep vaporiser for all ages. As well as mist and light functions, it also has built in sound therapy and voice recorder. The sound has full volume adjustment and 5 sounds: Soothing lullaby, uplifting lullaby, pink noise, rain, heartbeat. It is the only design with sound features.
I hope this information has been helpful, and guided you on the best cool mist vaporiser for your needs.
No matter which one you choose, you will benefit from the healing essential oils and purified, ionized mist dispersed throughout your home or office. Please come by and shop with us soon. x
Ciao for now, Laura and the team x