Homedics Sound Spa On-the-Go
Developing healthy sleep habits is essential for children's growth and development...
With a choice of 4 relaxing sounds, this compact, battery-powered mini sound-spa machine creates a relaxing, comforting sleep environment for babies and toddlers, no matter where you are.
Help your little one drift off to sleep easily with the Homedics SoundSpa On-The-Go - a perfectly portable, safe and soothing sound system.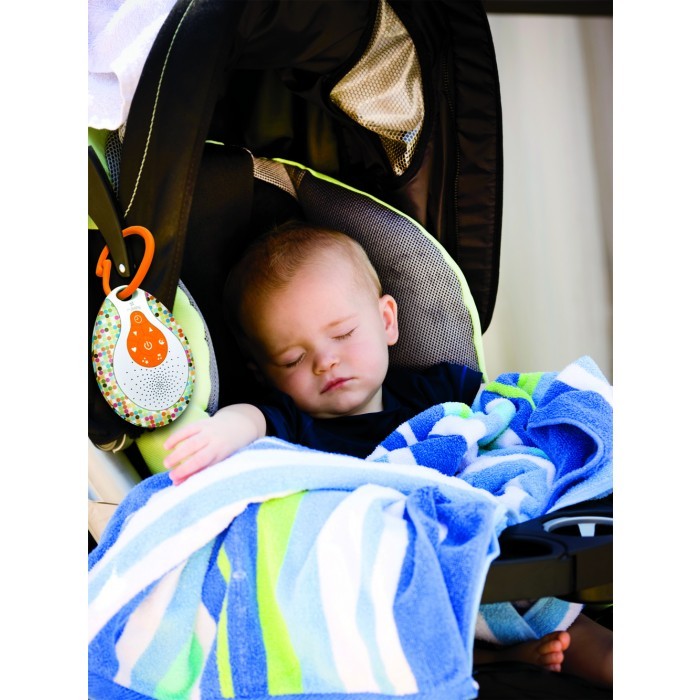 Product Description:
This portable product will help your child drift to sleep, and stay asleep.
- Comes with 4 soothing sounds with auto-off timer, or constant sound - Heartbeat, White Noise, Ocean and Lullaby.

- Volume control: whisper quiet through to a louder volume. Adjust as needed. No more disturbed sleep from loud noises in the shopping centre!
- Easy to use, and simple buttons to press.
- Integrated clip attaches to prams, nappy bags, portacots, trolleys and more!
- Sleep advisers around the world endorse the use of 'white noise' style machines as a calming, consistent sleep inducer. And millions of parents agree. Your new baby is quite used to noise because the in utero environment is quite loud, with heartbeat, fluid, your voice and even the TV. In fact, complete silence can be more confusing to a newborn than background noise.
- One of the greatest benefits of white noise machines is that they help babies fall back to sleep if they wake up. This means their nap times will last longer and they will be less likely to fully wake in the night.

snottynoses.com.au is a proud member of the AusMumpreneur Network
Why can't I just use a sound app on the phone?
Many customers began using sound apps on their phone but found it was too inconvenient having to transport the phone or I-pad.
Our Homedics machines are a simple, cost-effective and easily portable choice.
Also, there are some health concerns about radiation with phone and I-pads close to sleeping babies, even in 'flight mode'.
Will my child become addicted to the sound?
Unlikely, and sleep experts agree that there is little to worry about.
These machines are NOT being used as a dependent 'sleep prop' - like a dummy, or being rocked, patted or sung to, which requires a parent to initiate.
Your child can use this machine safely for many years.
When you're ready to stop using 'white noise', simply turn the volume down a little every night until your not using the sound at all. Easy.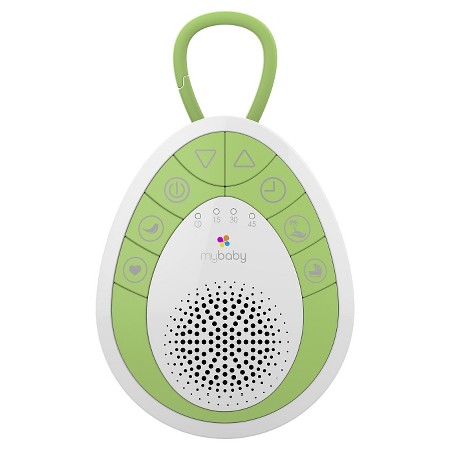 Power and Requirements:
- Current model available is green and white
- Battery powered. Use with 3 AAA batteries (due to freight regulations, the batteries cannot be included)
- 3 month manufacturer's warranty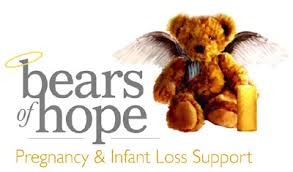 We love to give back to the community.
$1 from each order will be donated at the end of the month. Thank you x
____________________________________________________________________
The Gift of Good Sleep:
Thank you for understanding that this device is not a "magic overnight fix" for sleep issues.
Like any positive sleep routine, it requires commitment and consistency. But the long term benefits will be worth it.
Whatever stage of childhood your family is in, our range of Sleep Products can help.
Children of all ages need good sleep, full stop.
Babies and children have better brain function, better mood and better physical capability if they have had sufficient rest.
Parents also need good sleep, if they are to positively attend to all that is required for a happy family life.
From babyhood, children can be encouraged to develop healthy sleeping habits with the use of white noise.
It becomes a familiar, independent, soothing cue that sleep time has arrived.
Beyond babyhood, if habits have crept into your family's routine that you would like to change (eg: children sleeping in parental bed, child only soothing if parent lies beside them, child waking at dawn), then you will need to understand that it will take days or maybe weeks to re-train these habits.
It may be a case of 2 steps forward, and 1 step back.
There will be times it feels too hard or stressful or not worth it, but hold firm.
In the long run, it's your child's health and wellbeing, and your energy and fulfillment as a parent that will benefit.
That sounds like worth playing for!

Postage and Handling:
Your Homedics Sound Spa On the Go will be lodged with Australia Post or Sendle.com Couriers on the same business day (if ordered before 12pm), or by the next business day, GUARANTEED.
Please write "Authority to Leave Parcel" in checkout messages, otherwise courier will leave a calling card for redelivery.
Standard delivery $7.50 Express Post $10. Free shipping for orders over $150.
Same day local pick up from Brisbane.
Our Business - Your Confidence:
Customers trust their purchase from us.
We value each and every sale, by offering outstanding customer service, fast dispatch, and a truly brilliant product.
Availability:
IN STOCK: Standard Delivery $7.50 Express Post $10 Free delivery for orders over $150. Free local pick up in Brisbane