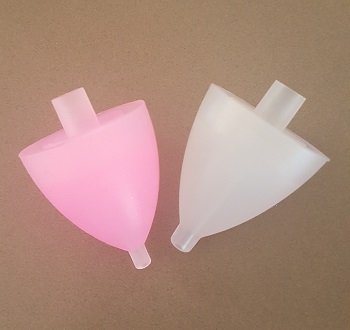 The Snotty 3 is no longer available, but we still have accessories available.
- pack contains 1 white large and 1 small pink silicon nozzle for the Snotty 3 Ultimate Aspirator.
The NEW Snotty Boss is the quietest, strongest battery aspirator on the market
We love to support community projects.
$1 from your order helps us partner with Humpty Dumpty Foundation
____________________________________________________________________
With a 14 day "No Risk" Satisfaction Guarantee, it's time to try Australia's best and most trusted battery powered snot sucker for newborns, toddlers and children....
Toddlers get so used to the sound and feel of the Snotty - they love doing it themselves!
Cleaning Your Snotty Aspirator
Please ensure thorough and regular cleaning of the Snotty Aspirator, to ensure optimum performance and lifespan.
The entire Snotty Aspirator unit is completely waterproof for easy cleaning.
Remove the silicon tip and collection cup and rinse under the hot water tap.
Also dip the battery handset in hot water, and activate the motor to rinse.
Do not boil or place parts in the dishwasher.
Please watch the easy cleaning instruction video on the video tab!
Testimonials
Postage and Handling
Your Snotty Nozzle Pack will be lodged with Australia Post or Sendle.com Couriers on the same business day (if ordered before 8am EST) or the next business day, GUARANTEED.
Too many other online businesses take 3-10 days to process your order.
Not Snotty Noses - we have stock ready to go in our office and we pride ourselves on super fast dispatch.
Standard delivery $8.95 Express Post: $11.95. Adding other products may put your order into the next weight category, and additional express fees may apply. Free standard shipping over $199, so stock up on essentials now!
Special note for our beautiful customers in WA, NT and TAS and other regional centres- standard delivery can take more than 8 business days from Brisbane, therefore we urge you to consider Express Post options to ensure speedy delivery of your parcel.
Same day pick up from Woolloongabba, Brisbane.
Our Business - Your Confidence
Customers trust their purchase from us. We have used the SNOTTY Aspirator range with our own children and we know it works. That is why we started the company!
We value each and every sale, by offering outstanding customer service, fast dispatch, and a truly brilliant product.
* Satisfaction Guarantee: In agreement with the Snotty Nasal Aspirator distributor, Perpetus Pty Ltd, the Snotty 3 Nasal Aspirator comes with a "Satisfaction Guarantee". Purchase and use the Snotty Aspirator and if you are not satisfied with the snot removal and suction capabilities, please return it within 14 days for a refund of the purchase price, less a $7 processing fee. All details are included on All the Legals page. We are proud to offer this "Satisfaction Guarantee" for the Snotty Nasal Aspirator, as we are so confident it will be the easiest and best device you have ever used to clear your child's nose.
The positive feedback for the Snotty range continues to grow. Click below to read the most recent testimonials, and to view a video of the Snotty range in action...
Is your baby or child struggling to breathe and sleep with a blocked or runny nose?
Discover our Ultimate Bundle - A Cool-Mist Vaporiser + Essential Oil + Snotty 3 Nasal Aspirator
Just $185, with fast, free dispatch and delivery from Brisbane!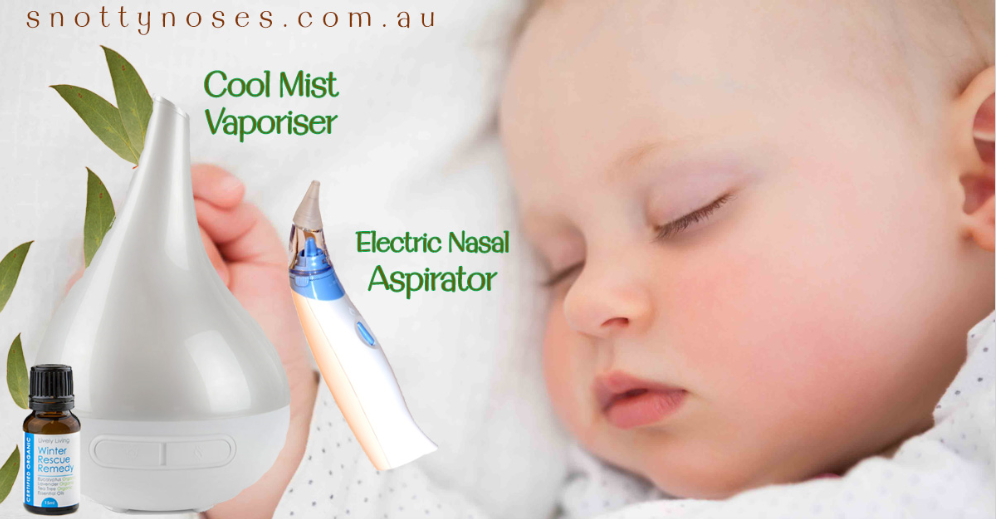 Availability:
IN STOCK - Standard Delivery $8.50 Express Post $10. Free delivery for orders over $199. Free local pick up in Brisbane.