Sleepy Head Bath Wash is the perfect sleep aid for kids (and adults!!)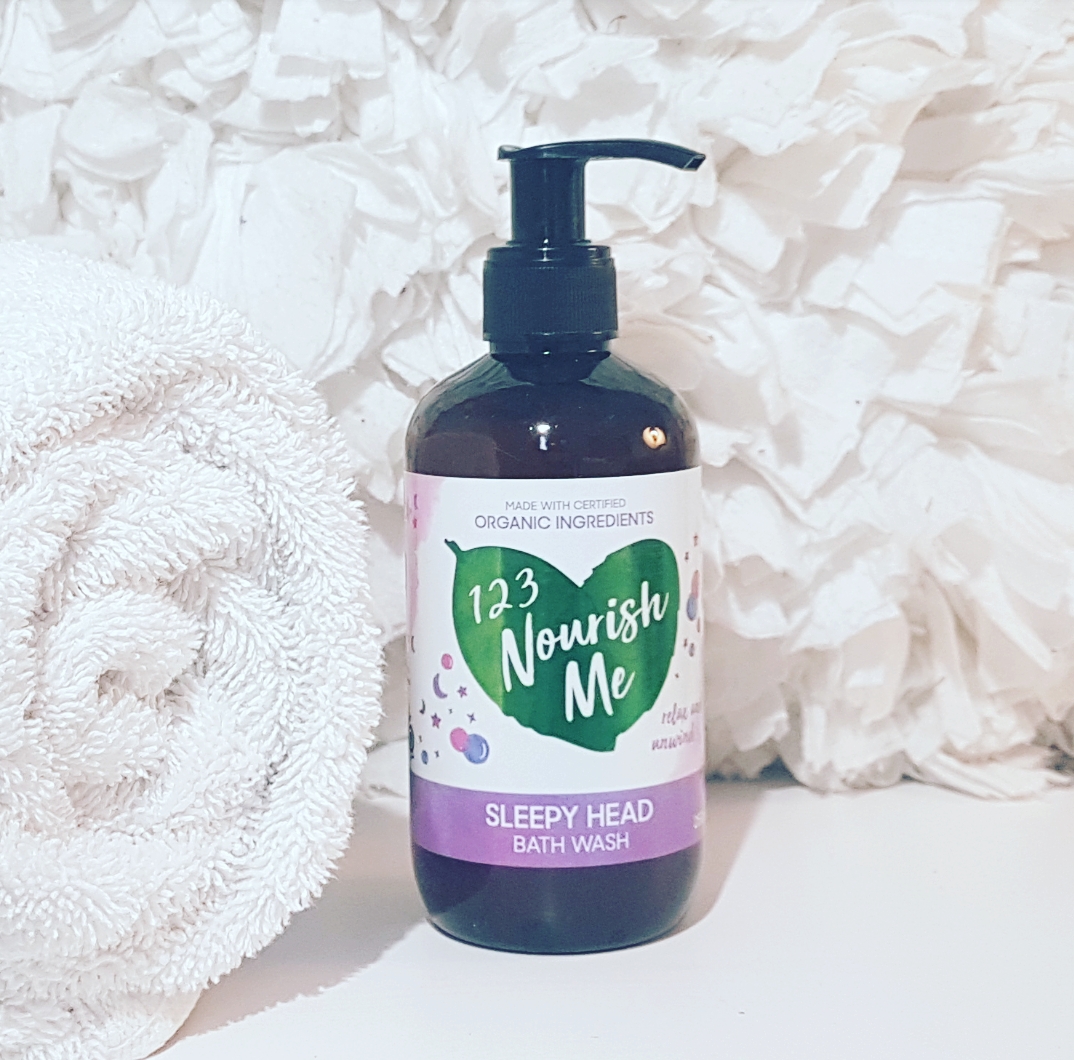 250ml, use as a body wash and shampoo

Australian Certified Organic

Sulphate Free & Paraben Free

Beautiful herbal ingredients, recommended for babies and children from 3 months

Gently cleans your little one's hair and scalp without irritation and dryness

Emollient properties help to moisturise kids delicate skin

Sleepy Head Bath Wash is suitable for curly, wavy and thick hair leaving it soft, untangled and hydrated

Evening Primrose Oil has been added for its softening effects and leaves you and little ones feeling freshly clean and moisturised.

Buy 4 or more bottles, and save an extra 5% (automatically calculated in shopping cart)

Perfect for baby showers, birthdays, and Xmas presents.
What's in Sleepy Head Bath Wash?
Organic Aloe Vera (Aloe barbadensis) Juice, Purified Water (Aqua), Coco glucoside, Organic Guar Gum (Cyamopsis Tetragonoloba), Citric Acid, Organic Lavender (Lavandula angustufolia) Essential Oil, Potassium Sorbate, Parfum (Vegetable based natural preservative), Organic Glycerin, Organic Lemon Myrtle (Backhousia citriodora) Essential Oil, Organic Lavender (Lavandula angustufolia) Extract, Organic Avocado (Pesea gratissima) Oil, Organic Evening Primrose (Oenothera biennis) Oil, Organic Olive Leaf (Olea europaea) Extract, Organic Calendula (Calendula officinalis) Extract, Organic Chamomile (Chamomilla recutita) Extract, Rosehip (Rosa canina) Extract.
Check out the goodness.....
Organic Aloe Vera Juice
Aloe vera is quite an incredible medicinal plant full of benefits. Aloe Vera contains something called proteolytic enzymes which repairs dead skin cells on the scalp. It also acts as a great conditioner and leaves hair all smooth and shiny. It promotes hair growth, prevents itching on the scalp, reduces dandruff and conditions your hair – it's super gentle for little one's skin and also a powerful cleaner!
Organic Avocado Oil
Avocado Oil is highly effective in smoothening up the skin stature thereby maintaining a silky skin tone. It is the high level of Vitamin E that prevents the skin from inflammations and itchiness thereby helping skin to maintain its health and softness. The antioxidants present in avocado oil is also found to be capable of soothing even sunburned skin. Research works have proved that avocado oil is highly effective against skin related diseases like eczema. We love it in our Sleepy Head Bath Wash as it's super gentle on kids skin!
Organic Evening Primrose Oil
Evening Primrose Oil is extracted from the seeds of Evening Primrose flowers. The oil that is extracted is unrefined, and has high contents of essential fatty acids. Topically, it is also known for treating common skin complaints such as acne, psoriasis, eczema, rosacea and dermatitis. We love it as it's super healing for skin and leaves hair silky and soft.
Organic Lavender Essential Oil
Lavender essential oil smells divine and is an excellent tonic for the nervous system soothing and relaxing and supporting healthy nervous tissue function. Brilliant for anxiety, migraines, headaches, depression, nervous tension and emotional stress. Lavender is one of the three essential oils which most powerfully stimulate the growth of healthy new cells – Tea Tree and Neroli are the others. Lavender has numerous active constituents but above all, it is primarily the balancing and normalising action of the oil which makes it so beneficially versatile.
Organic Olive Leaf Extract
Olive Leaves have different antioxidants, all of which help protect the skin from environmental stressors. Olive leaf oil also has good levels of Vitamin A and E and is a beautiful and gentle emollient on the skin. Olive leaves contain several beneficial flavonoids, including quercetin, rutin, and kaempferol. We love how gentle and effective it is on keeping kids skin smooth!
Organic Calendula Extract
Calendula is a great healer! Because of calendars' anti-inflammatory and antiseptic properties it's great for sunburn, rashes, insect bites and other mild skin issues. Calendula can also help soothe contact dermatitis from environmental causes!
Organic Chamomile Extract
Chamomile has so many powerful skin properties such as anti-inflammatory, anti fungal antiseptic and contains antioxidants. Additionally it is highly hypoallergenic and helps reduce skin irritants by neutralizing free radicals. We LOVE how it makes our Sleepy Head Bath Wash smell!
Organic Lemon Myrtle Essential Oil
Lemon myrtle oil is used for it's astringent and cleaning properties on the skin. It has a high tannin content making it a beautiful skin cleaner. It also smells amazing!
Rosehip Extract
A rose hip is the fruit of a rose. Reship extract contains polyphenols and anthocyanins, which are believed to ease joint inflammation and prevent joint damage. It's also rich in vitamin C, which has antioxidant properties.
Our Natural Preservatives
Anytime you have water in a product you must have a preserving system. Otherwise the product grows bacteria and mould. To have a certified organic product the preserving systems we are allowed to use to pass the ACO (Australian Certified Organic) certification process is extremely limited. Without a preserving system we don't have a product.
There are only two preservatives we are allowed to use and still be ACO certified. Potassium sorbate is approved by Australian Certified Organic (ACO) for use in organic skincare products.
The second one we use has to legally be known by either the term 'fragrance' or 'perfume'. This organic preservative is a broad-spectrum anti-microbial vegetable-based preservative sourced from almond and vanilla – which also acts as a preservative. It inhibits bacteria, mould and yeasts. It is approved for use in organic skincare by ACO. (Australian Certified Organic) Board.

Consider using the Sleepy Head Balm with other great sleep products like.....
- Homedics White Noise Machine
- Sound Spa Lullaby and Night Light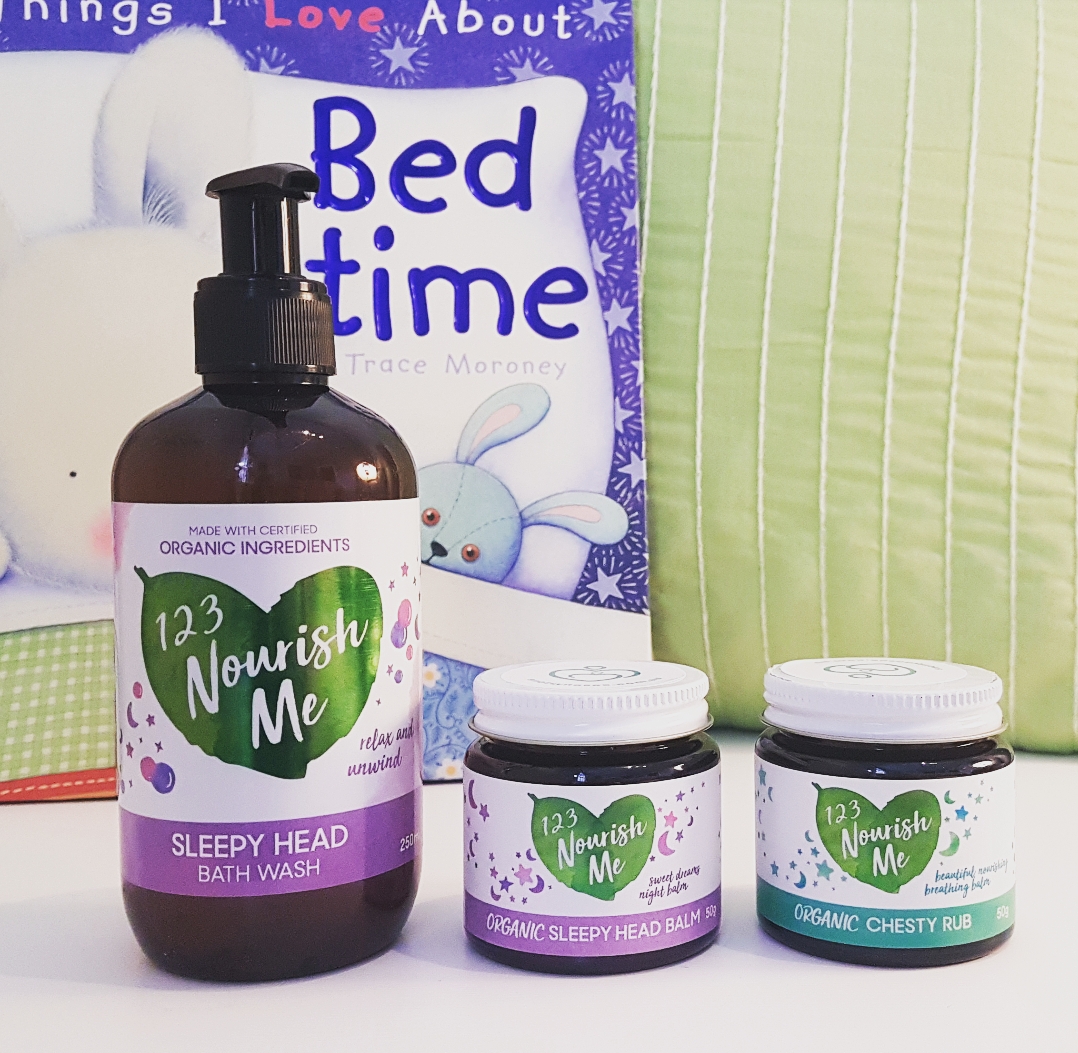 _____________________________________________________________________
We love to support community projects.
$1 from your order helps us partner with Little Rockers Radio
____________________________________________________________________
The Gift of Good Sleep:
Thank you for understanding that this bath wash is not a "magic overnight fix" for sleep issues.
Our customers LOVE our Sleepy Head Bath Wash but we can't guarantee results as every child has different sleep issues. There are so many factors that contribute to sleep problems and for further guidance and serious sleep concerns we recommend you consult your healthcare professional or doctor.
Like any positive sleep ritual, it requires commitment and consistency. But the long term benefits will be worth it.
Whatever stage of childhood your family is in, our range of Sleep Products can help.
Children of all ages need good sleep, full stop.
Babies and children have better brain function, better mood and better physical capability if they have had sufficient rest.
Parents also need good sleep, if they are to positively attend to all that is required for a happy family life.

Postage and Handling:
Your Sleepy Head Bath Wash will be wrapped with love and lodged with Australia Post or Sendle.com Couriers on the same business day (if ordered before 10am), or by the next business day, GUARANTEED.
Standard delivery $7.50 Express Post $10. Free shipping for orders over $150.
Same day local pick up from Brisbane.
Our Business - Your Confidence:
Customers trust their purchase from us.
We value each and every sale, by offering outstanding customer service, fast dispatch, and a truly brilliant product.
Disclaimer: We are not doctors or healthcare professionals or aromatherapists. Our products are offered for sale with general use guidelines provided by the manufacturer. Should any sensitivity to our products occur, please discontinue use. Our products are not intended to diagnose, treat, and/or take the place of medical treatment prescribed by a doctor or medical professional.
This product is a gentle balm designed to encourage relaxation, but is not a guaranteed magic fix for sleep issues and disturbances. It may not work for every child and all customers, due to there being so many reasons for sleep and health issues. For serious sleep and health issues we recommend a medical specialist.
snottynoses.com.au is a proud member of the AusMumpreneur Network
Availability:
IN STOCK: Standard Delivery $8.50 Express Post $10 Free delivery for orders over $199. Free local pick up in Brisbane
Bulk Discounts:
Buy 4 - 20 and get 5% off