Baby Lullaby Sound Spa & Baby Sleep Clock Bundle
Toddler Sound Machine & Sleep Clock
The Ultimate "Sleepy Time" Value Pack

Introduce these toddler sleep soother gadgets and create the perfect bedtime routine.
No more early morning wake ups with our trainer sleep clock for toddlers and sound machine available in a great value bundle for the ultimate sleep solution...
You will receive:
1 x Sam the Sheep Sleep Trainer Clock
1 x Homedics Sound Spa Portable
These 2 trusted products are safe, gentle and fun - they work well on their own.
But the real benefit comes from using them together, as their features combine to create a calm and soothing environment every morning and night.
Give your child the gift of good sleep every night, and order the value pack today.
These toddler sleep soothers will become a sleep favourite, that will be used for years and years...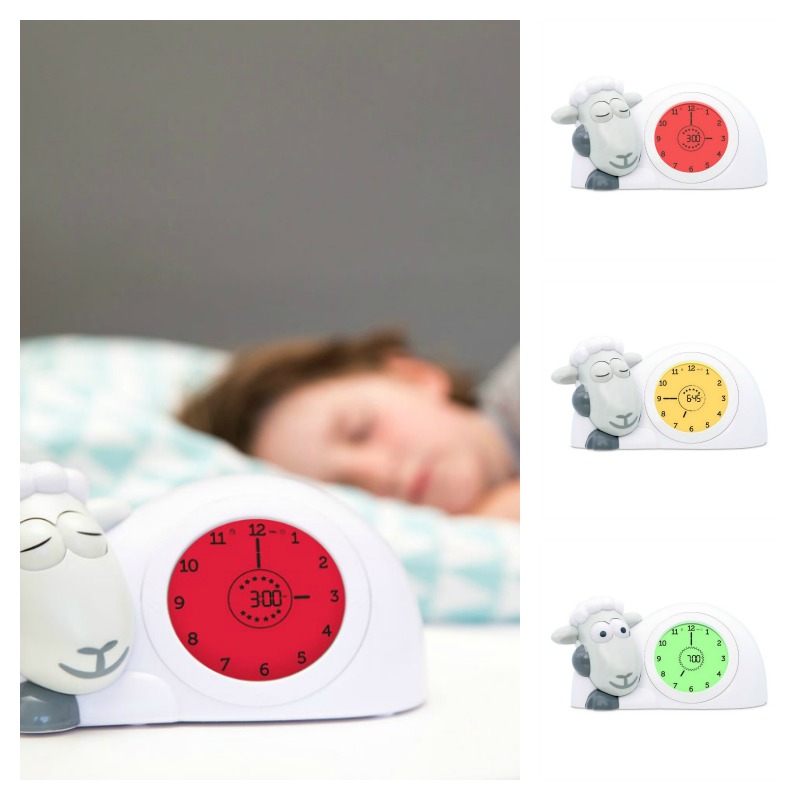 Toddlers and young children are notorious for delaying bedtime, or waking up in the middle of the night and creeping into the parental bed or for being early risers.
Establishing healthy, consistent sleep routines is one of the most common concerns of parents.
The sleep clock for toddlers features an adorable sheep called Sam who, by opening and closing his eyes, tells the child when it is time to get up.
- Eyes closed and clock face is RED = "Goodnight. You should be in your bed and sleeping"
- Eyes closed and clock face is YELLOW = "It's only 30 mins until wake up time, so stay in bed a little longer"
- Eyes open and clock face is GREEN = "Rise and Shine"
Gentle night light feature shines continuously, or set on a timer.
Digital and analogue display.
Both AC/DC power or battery operated.
A fun and educational way to learn to tell the time!
With calm, consistent implementation, Sam the Sheep Sleep Trainer Clock has had great results for 2-10 year olds, often after only a few days of use.
Within a month, young children have completely transformed their bedtime and sleep habits, resulting in happier, healthier, well-rested families.
Homedics Sound Spa Portable

Developing healthy sleep habits is essential for children's growth and development, from infancy through to the teenage years.
With a choice of relaxing sounds, this toddler sound machine creates a relaxing, comforting sleep environment for babies, toddlers and older children.
Sounds include - white noise, ocean and heartbeat - all with fully adjustable volume and quality sound.
Sounds gently play all night long or can be set on a timer.
Don't let your child's sleep be disrupted by outside loud noises, music, voices, older siblings playing around the house, noisy neighbours or early morning rubbish trucks.
Sleep experts agree: babies and children sleep better with consistent, low frequency noise.
Please be aware of international companies selling these products at discounted prices - those units will not come with the correct Aust certified electrical plug.
We love to support community projects.
$1 from your order helps us partner with Little Rockers Radio
____________________________________________________________________

Postage and Handling
Your Sam Sheep/Sound Spa Bundle will be lodged with Australia Post or Sendle.com Couriers on the same business day (if ordered before 10am EST) or the next business day, GUARANTEED.
Standard delivery $7.50. Express Post $14.50. Free standard shipping on orders over $150. Same day, free local pick up is available in Brisbane.
snottynoses.com.au is a proud member of the AusMumpreneur Network
Snotty Noses Specializes in Nasal Aspirators, Humidifiers and Vaporizers.

Our Business - Your Confidence
Customers trust their purchase from us. We have sold 100s of Sam the Sheep and Sound Spa units and we value each and every sale, by offering outstanding customer service, fast dispatch, and a truly brilliant product.
Availability:
IN STOCK - Standard delivery $7.50 Express Post $18.50 Free delivery for orders over $150. Same day, free local pick up available in Brisbane.