THE NEWEST AUSTRALIAN ASPIRATOR to help your child breathe, feed and sleep better
It's New and Better
Snotty Boss is a NEW, QUIETER, STRONGER battery powered snot sucker.
After 2 YEARS IN RESEARCH AND DEVELOPMENT, it replaces other "Snotty" models we have sold since 2013.
WATCH THE DEMO VIDEO and see how easily we cleared baby Aaliyah's nose in seconds.
Little ones BREATHE, FEED AND SLEEP better with a clear nose.
Don't Panic, Be Prepared For Virus, Sniffles & Congestion
Why Does Every Family Need A Snotty Boss Kit?
CHILDREN CAN'T BLOW THEIR NOSE, so we must help them.
REMOVE SNOT from your child's nose gently and safely in 10 seconds.
BATTERY POWERED SUCTION to breathe, feed and sleep better.
A TOTAL KIT, with essential accessories included - 1st on the Australian market
SAFE FOR ALL AGES - newborns, babies, toddlers and preschoolers - until they can blow their own nose.
EASY, NATURAL SOLUTION for treatment of colds, flu, sinus, allergies, teething and virus related congestion and runny nose
30 DAY SATISFACTION GUARANTEE
REGISTERED WITH TGA AUSTRALIA, as safe medical device.
FAST SHIPMENT from our Brisbane warehouse, to anywhere in Australia
INTERNATIONAL DELIVERY now available HERE
We have a huge social media following and Mums are constantly posting about the Snotty Boss, which has helped it go viral! Check out this latest Instagram story from @mrsconnelly_
1000s of happy customers
The only retailer selling a complete "KIT"
Same day, express postage from Brisbane available
You can thank us later :)
Ultimate Sniffle Pack Upgrade
Only $199, with free shipping
Why Is "Snotty Boss" the Best Solution?
Newborns and babies are "obligate nasal breathers" which means they can only breathe through their nose in the first few months of life. They cannot breathe through their mouth at all.
If the nostrils are blocked, it can be dangerous and uncomfortable. Little ones will struggle to breathe, feed or sleep.
By 6 months of age, babies have developed the ability to breathe through their mouths, but their natural preference and reflex is to continue to nasal breathe, especially when sleeping.
Save time and money on doctor visits, chemists and medicines by removing congestion quickly in your own home, at any hour of the day an night, and minimising the risk of secondary ear, adenoid and respiratory infection.
Remove the stress and sleepless nights associated with colds, viruses, congestion and sniffles.
Featured in Brisbane Courier Mail
29.8.20
Featured in Sydney Morning Herald
Click here to read the full SMH article, 24/2/19
Featured in Sunshine Coast Daily
2.9.20
We are the "Snotty Child" Experts

Why buy from snottynoses.com.au? What's included?
- the complete snot solution kit
- fast delivery to anywhere in Australia
- the quietest, most powerful battery powered snot sucker on the Australian market
- exclusive 30 day satisfaction guarantee, love it or return it*
- FREE refillable saline spray bottle, valued at $5.95: an essential first step to relieving congestion
- FREE drawstring carry bag, for easy storage of all accessories and ready to travel in the nappy bag, valued at $7.95
- 3 soft, silicon nozzles (newborn, short and long) included
- the fastest dispatch in Australia, with express post options available
- access to our private Facebook Sniffle Solutions Group, where you can chat, share and connect with other parents
- exclusive online user guide, with videos and trouble shooting, plus phone support
- an amazing rewards program, and bonuses for referring friends
- join our social media tribes via @snottynosesaustralia with special offers, giveaways and samples
- support our charity partner: $1 from each order goes to The Humpty Dumpty Foundation

- it's more than just a great product, it's the total kit, with local connection and support from our team in Brisbane to help your sick baby or child
"I can't believe I waited so long to get one. It's so quick and easy, and my 10 month old is not bothered by the vibration at all. A must-have for new parents".
Rahda, via Facebook
How Is The Snotty Boss Different To The Original Snotty 3?
Exclusive 30 day "Satisfaction Guarantee"
Love it or return it, simple!
The Snotty Boss Aspirator is the ultimate solution. Here's why...
Ultra-quiet, strong, battery power

Constant, steady suction - that is the key to its success.

Ergonomically designed to be used 1 handed, while your child is sitting up or lying down

Remove snot from the nose, quickly, easily, and gently IN 5 SECONDS, allowing children to breathe, feed, sleep and feel better.

Extracted mucus is easily contained in the new, larger collection cup.

Clears high into the nasal passages, and reduces the risk of secondary ear, throat and respiratory infections.

Use multiple times each day.

No more sore, red noses from constant tissue use.

Australian owned and listed on the TGA Australian Register of Therapeutic Goods as a safe medical device - (ARTG No 320144)

Waterproof and easy to clean, simply rinse all attachments under hot water to clean the nozzle and collection cup and flush the motor compartment as required.

Totally portable, just tuck it into your bag and take it with you wherever you go.

Watch the videos and read the testimonials on this page. It is easy and effective.

Check with your local chemist - ask them to stock Snotty Boss
Does It Really Suction?
"No Risk" 30 Day Satisfaction Guarantee
Buy the Snotty Boss Nasal Aspirator and if it's not the easiest and most effective way to remove nasal snot to help your child breathe and sleep better, simply return it within 30 days for a refund*
We are the ONLY Australian manufacturer to offer this guarantee.
Buy online from us with confidence and enjoy the fastest dispatch in Australia, to get your "Snotty Boss" to your door ASAP.
Testimonials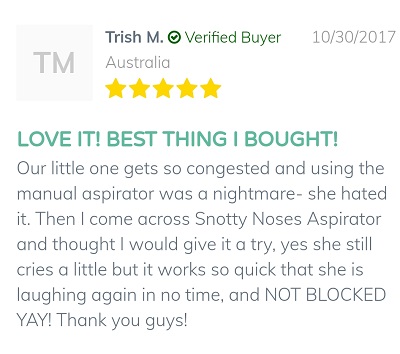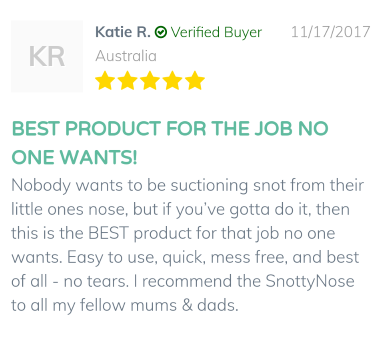 More testimonials at the bottom of the page
The Best Design on the Market and Satisfaction Guaranteed!
- The Snotty Boss is the 5th aspirator sold by our company and replaces the "Snotty 3" and "Snotty USB" Aspirators we have sold since 2016
- Forget those cheap, manual bulb snot suckers that require parents to squeeze or release at the right time - kids hate them and they don't work!
- Forget the baby nose aspirators that require an adult to suck through a tube with their own mouth to create a suction vacuum - totally impractical and completely frustrating and leaves parents at high risk of cross contamination. They have a filter, but if your breath can get through, so can micro particles of bacteria and virus.
- Simply press the power button let the quiet motor and gentle suction of the Snotty Boss Aspirator do the rest. It's quieter and stronger than any previous models sold by our company.
- Using the ultra-quiet battery powered Snotty Boss Aspirator has saved many trips to the emergency room for intense mucus extraction by medical staff in the middle of the night - do it quickly and easily in the comfort of your own home! It really is that effective!
- 30 day satisfaction guarantee.
- Battery powered baby nasal aspirators have been rated in the "Cleverest Inventions for Parents" on Kidspot!
Our Story of Success
Not available at Chemist Warehouse
We love to support community projects.
$1 from your order helps us partner with Humpty Dumpty Foundation
____________________________________________________________________
"Help, I'm scared to use it"
OK, Let's Discuss the Most Common Fear From Parents: My Child Will Not Let Me Get Anywhere Near Them With it!
We understand that having anything near or up their nose is not a baby or child's favourite thing!
But the medical benefits of removing snot at the source (before it can become a secondary chest or ear infection) far outweighs a moment of fuss and wriggle.
Remember, the Snotty Boss is the QUIETEST electric aspirator on the Australian market.
Many parents tell us that they have tried the manual bulb squeeze bulb in the past, and it has been a disaster.
We wish those manual bulbs had never been invented by the FESS company etc, as they have turned people off the idea of nasal aspiration - when it actually can be quick and easy with the Snotty Boss Battery Powered Aspirator.
There have also been stories swirling around the Internet about children choking as a result of nasal aspiration. That actually happened to a Mum who was using a manual, bulb sucker. Instead of releasing the bulb to suck out the mucus, she squeezed the bulb, and pushed the mucus back into her child's nose, which caused the choking incident.
This scary situation simply cannot happen with the Snotty Boss, as the expelled suction is one-way only. Nothing can ever be pushed back into the nasal cavity.
Ultimately, keep calm, and show your child there is nothing to be scared about.
Our product is the ultimate baby snot sucker and your baby or toddler will breathe, feed and sleep so much better once the snot is gone.
Plus it will aid in quicker recovery from their cold and congestion.
We understand your child may be unsure at first and even months down the track it still may not be their favorite thing to do, but when their health is compromised, it's worth it!
See below for some practical tips and tricks for effective use....
With a 30 day "No Risk" Satisfaction Guarantee, it's time to try Australia's best and most trusted battery powered snot sucker for newborns, toddlers and children....
Practical Tips for Effective Usage

If you've struggled to use other nasal aspirators or manual bulb suction devices in the past, you will be delighted by how easy the Snotty Boss is to use. Ultimately, babies and children don't love something strange being put in their nose.
All of the Snotty Noses team have little ones too and we understand!! But the medical benefits of removing that snot at the source - quickly and easily - is worth a moment of fuss.
Babies are usually unfazed by the noise and vibration of the Snotty range, but toddlers can be a little unsure. Why not let them use the "Snotty Boss Aspirator" on their 'sick' toys and dolls as a game first! It's been a very successful strategy in lots of households!
The new Snotty Boss Aspirator has the quietest motor of all electric aspirators on the market. But if your child is unsure about the noise, let them listen to music, watch some TV or practice counting down for rocket launch 10, 9, 8, 7, 6, 5, 4, 3, 2, 1 BLAST OFF! Remember it only takes a few seconds to do each nostril. The health benefits of the "Snotty Boss" far outweigh a moment of fuss.
If your child is very congested, you can do a POWER SNOTTY action - cover one nostril with your fingertip, and use the Snotty Boss in the other nostril. This creates an intense vacuum, that really clears out the nose.
The "Snotty Boss Aspirator" is completely water proof, so use it in the bath, while you play a splashy game!
We recommend doing a few squirts of saline solution prior to aspirating with the "Snotty Boss". It will loosen up the mucus and ensure maximum volume is extracted. A free refillable saline spray bottle is included with your purchase.
We'll email you the tips and tricks after you purchase, or check them out here
"The handy tips made a yucky job so quick and easy".
Mandy, Perth
Specifications
Power: 2 x AA batteries (not supplied, due to Australian Aviation law) Energizer Alkaline batteries are recommended
Contains 3 nozzles (newborn, baby and child size), saline spray bottle and drawstring carry bag, hygienic lid
Suction: Approx. 58 kPa
One year warranty on manufacturing and motor faults.
30 day "Satisfaction Guarantee" - it's the easiest and most effective way to clear your child's snotty nose, or return it*. Simple!
Cleaning
Please ensure thorough and regular cleaning of the Snotty Boss Aspirator, to ensure optimum performance and lifespan.
The Snotty Boss is waterproof for easy cleaning.
Remove the silicon tip and collection cup and rinse under the hot water tap.
Also dip the battery handset in hot water, and activate the motor to rinse.
Do not boil or place parts in the dishwasher.
Please watch the easy cleaning instruction video.
Testimonials
Read more testimonials below
Bonus Inclusions in Your Parcels when you shop with snottynoses.com.au
A 12 ml refillable Saline Spray Bottle
This convenient nasal spray bottle is perfect for use PRIOR to nasal aspiration. It provides an ideal mist for the nasal cavity and loosens up the mucus.
Fill the bottle with saline solution, available from chemists. Or make your own saline mixture at home. A simple recipe for baby nasal saline is to dissolve half a teaspoon of salt in one cup of warm pre-boiled water.
The saline will loosen up the mucus and also work as a natural bacterial inhibitor.
The spray bottle can also be filled with breastmilk, as a natural lubricant for nasal passages.
This nasal spray bottle is a perfect size, and it's refillable.
A Drawstring Carry Travel Bag
The perfect way to keep all accessories, nozzles and aspirator organised and clean. Simply pop the travel pouch into your nappy bag, and take the Snotty Boss on the go.
Postage and Handling
We strive to keep delivery costs at a minimum, and only charge the base rate provided by our carriers. Your Snotty Boss Aspirator for delivery within Australia will be lodged with Australia Post on the same business day (if ordered before 8am EST) or the next business day, GUARANTEED.
International delivery available via snottyboss.com
Too many other online businesses take 3-10 days to process your order.
Not us - we have stock ready to go in our office and we pride ourselves on super fast dispatch.
Australian standard delivery $8.95 Express Post: $11.95. Adding other products may put your order into the next weight category, and additional express fees may apply. Free standard shipping over $199, so stock up on essentials now!
Please note: Is your home address safe and accessible for delivery drivers? You may want to consider choosing a parcel locker, PO Box or your work address, to ensure hassle-free delivery of your parcel.
Special note for our beautiful customers in WA, NT and TAS and other regional centres- standard delivery can take more than 8 business days from Brisbane, therefore we urge you to consider Express Post options to ensure fast delivery of your parcel.
Same day pick up from Woolloongabba, Brisbane.
Our Business - Your Confidence
After 7 years in business, and thousands of reviews, customers trust their purchase from us. We have used the SNOTTY Aspirator range with our own children and we know it works. That is why we started the company!
We have been featured on Sunrise, Studio 10, The Courier Mail, The Weekend Australian, Mum Central, News.com.au, The West End Magazine and more!
We value each and every sale, by offering outstanding customer service, fast dispatch, and a truly brilliant product.
* Satisfaction Guarantee: The Snotty Boss Aspirator purchased from our store comes with a "Satisfaction Guarantee". Purchase and use the Snotty Boss and if you are not satisfied with the snot removal and suction capabilities, please return it within 30 days for a refund of the purchase price, less a $7 processing fee. All details are included on All the Legals page. We are proud to offer this "Satisfaction Guarantee" for the Snotty Nasal Aspirator, as we are so confident it will be the easiest and best device you have ever used to clear your child's nose.
The positive feedback for the Snotty range continues to grow. Scroll down to read the most recent testimonials.......
Is your baby or child struggling to breathe and sleep with a blocked or runny nose?
Click here to shop the Ultimate Sniffle Bundle
"My baby's cold was gone after only 2 days, thanks to the wonders of the vaporiser and snot sucker. I wish I had these products with my 1st child",
Karen, Port Macquarie
Disclaimer: We are not doctors or healthcare professionals. Our product is registered with TGA Australia for safe home use. Our products are offered for sale with general use guidelines provided by the manufacturer. Should any sensitivity to our products occur, please discontinue use. Our products are not intended to diagnose, treat, and/or take the place of medical treatment prescribed by a doctor or medical professional.
Nasal Aspirator FAQs
What is a nasal aspirator?
A nasal aspirator is a small device that helps draw snot or mucus from the nose of a baby. The device uses suction to extract the mucus allowing the baby to be able to breathe easily. An aspirator can rely on manual suction, or battery powered suction. We know that battery powered suction is the easiest, strongest and safest way to clear nostrils, to help children breathe, feed and sleep better.
In the first few months of life, babies breathe by their nose, and later on, they begin to breathe through their mouths as well. If there is nasal congestion, it makes breathing difficult for the baby. This is where a nasal aspirator comes in handy.
How to use a nasal aspirator?
A squirt of saline or breastmilk in each nostril is an essential first step, before using the aspirator. The saline or breastmilk will cleanse, hydrate and flush the nasal passage, and will make suction an easier process. It's nearly impossible to aspirate effectively if the mucus is dry and crusty.
After dispensing saline, insert the silicone tip in a gentle manner into the newborn's blocked nostril. Press the start button to suction the snot for the duration of 3 seconds. When the suction is occurring, you can hear the sound of snot being collected by the nasal aspirator. Repeat the process on each baby's nostril and ensure no more snot is collected indicating that the nostril passage is clear. A Newborn's nasal lining is quite delicate, so be gentle as you insert the tip of the nasal aspirator in your child's nostril.
How to clean a baby nasal aspirator?
Cleaning a baby nasal aspirator is easy. Use similar steps to cleaning their feeding bottles. Because our nasal aspirator is designed to be waterproof, it makes it easy to clean. Ensure you remove the silicone tip as well as the collection cup and clean it with a little soap and hot water. Rinse properly under a hot water tap. For the battery handset, you also want to clean it using hot water where you activate the motor to help with rinsing. Don't attempt to boil or place the parts of the nasal aspirator in the dishwasher.
Can I use a nasal aspirator on a newborn?
While some nasal aspirators aren't friendly and safe for children, our newborn nasal aspirators are designed for newborns. A small newborn silicon nozzle comes as part of the kit, so it fits even the tiniest nostril. They work safely to suction mucus from their nostrils, ensuring that your newborn can breathe comfortably.
Is the nasal aspirator safe for babies?
Yes, a newborn nasal aspirator is safe for your little ones. It's designed to safely remove or suck mucus or snot from the nostrils. A suction period of up to 10 seconds per nostril is usually sufficient. The Snotty Boss is TGA approved in Australia, to ensure full medical compliance as a safe device for home use. If the nose bleeds or a nasal capillary is irritated, please stop aspirating immediately, to allow the nose to heal for 12-36 hours. Seek medical advice if the nose does not stop bleeding within a few minutes.
Does Snotty Noses ship internationally?
Yes, we ship the Snotty Boss (only) internationally. If you're outside Australia, you want to visit our international page www.snottyboss.com to find out how you can order your nasal aspirator. We do not ship other products overseas.
Availability:
IN STOCK - Standard Delivery $8.50 Express Post $10.95. Free delivery for orders over $199. Free local pick up in Brisbane.