Dads, Snotty Noses and Caring for Kids
Dads are such important pillars in the development of their child's total well-being. From birth, little ones look to their Dad to provide a feeling of security, both physical and emotional.
Babies are ready to bond with Dad from birth. Dads can bond through touch, talking, playing and getting involved in daily care.
Becoming a Dad can be a steep learning curve. There's so much to learn, so many new products to use, and so many activities to master.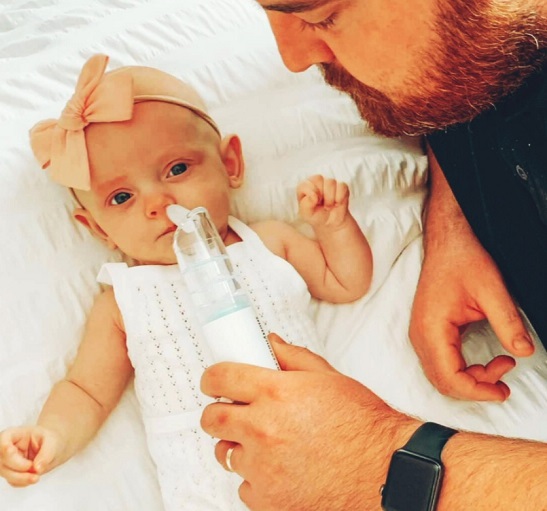 At some point during the first year, little ones will likely get a head cold. A sick baby is a stressful time for both parents. Dads often start Googling "cure for blocked nose" or "best tips to help sick baby". And luckily those Google searches lead them to us - the home of sniffle solutions and Snotty Boss.
Dads love gadgets! And the reviews we have received from Dads about the Snotty Boss Nasal Aspirator have been incredible.


Snotty Boss is a battery powered snot sucker. A hand-held, snot vacuum that gently and effectively removes snot from the nasal cavity in a few seconds. Their baby can immediately breathe, feed and sleep better, and as the virus is effectively expelled from the body, little ones can recover quicker.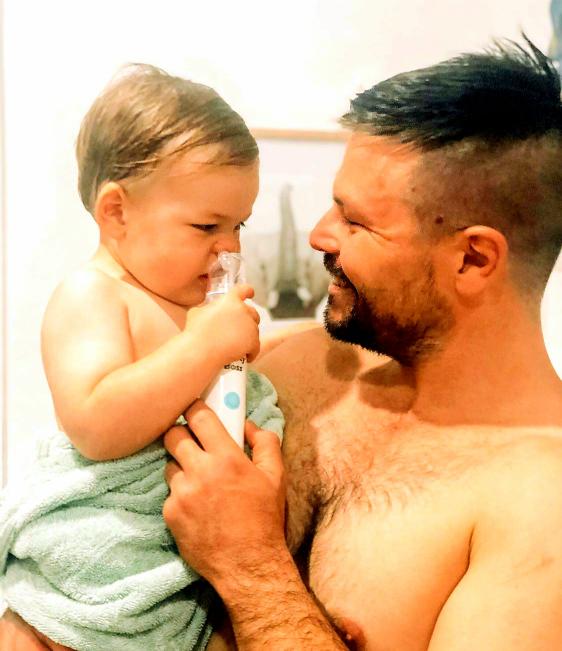 Snotty Boss is easy to clean and reusable, making it a wise investment for years and years, until little ones can learn to blow their own nose around age 4.
Dads often say to us: "I'm so glad I found your product. My wife was so stressed, and the baby was so unsettled. Snotty Boss was a life-saver. I'm like the hero who found this incredible product".
We are proud to empower Dads to help their little ones in times of sickness and discomfort.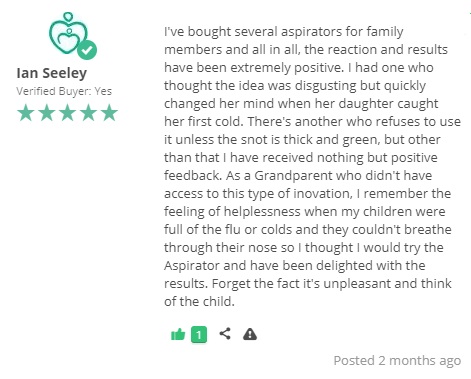 Raising Children Network outlines 10 other steps to helps Dads survive and thrive in those early months.
1. Get Hands on from the Beginning
Getting involved in the daily care of your baby - dressing, settling, playing, bathing and nappy changing – is the best way to build your skills and confidence. These everyday activities also create lots of one-on-one time with your baby, which is the building block of a positive relationship. Another bonus is that it's also good for Mum to have a break.
2. Learn your Baby's Cues
Babies give signals to what they need through their behaviour and body language. By really paying attention to your baby's cues, over time you'll learn how to work out what your baby needs.
3. Connect Through Touch
Physical touch makes your baby feel safe and secure and builds trust and connection with you. This kind of bonding with newborns also stimulates your baby's brain development. You could try carrying and holding your baby as often as you can. Skin to skin, as she lies on your bare chest is an incredibly powerful exercise in love and connection. If you hold her to your chest, she can hear your heartbeat.
4. Talk to your Baby All The Time
Literally, give a running commentary of your day. Talk while you're carrying or changing your baby. For example, 'Let's get this nappy changed. That feels better, doesn't it? Here's a nice clean nappy. Don't cry – we'll be finished soon'.
Every word baby hears helps develop his language and learning and strengthens your relationship with him. Telling stories, reading books or singing songs has the same effect.
5. Help with Feeding
Breastmilk is the best food for your baby. Your support for breastfeeding can be vital while your partner is learning. You could give practical support – a glass of water, another pillow or whatever she needs. Or if she's having trouble, you could encourage her to get help. If your partner finds she can't breastfeed, you could reassure her that it's OK and consider learning about bottle feeding and formula.
The "dream-feed" around 10-11pm can be expressed breast milk or formula, given to bub via a bottle. This is a great opportunity for Mum to go to bed, and Dad to take responsibility for the entire feed cycle, burp, nappy change and resettle to bed.
6. Have 1 on 1 Time
This kind of time is about you and your baby. If you can create moments when your baby has your full attention, you can really tune in to your baby. This gives the two of you a chance to connect and bond. For example, it can be as simple as making faces at each other while you dress your baby.
Take lots of candid photos and videos. Trust us, you will be so glad you did in years to come.
7. Get the Information You Need
Whether it's your first or fifth baby, there are always new things to learn. You can find information by searching this website, talking with other dads and attending parenting groups, for example. And one of the best ways to learn is by doing – spending lots of time caring for your baby.
8. Accept or Ask for Help
If someone says, 'Is there anything I can do?', it's OK to say 'Yes!' Talk with your partner about when you'll accept help from family, friends or neighbours. It might be as simple as asking someone to buy some milk for you when they come over to visit.
Accept that there will be good days and bad. The days are long, but the years are short.
9. Look after your Relationship
Having a new baby can put extra strain on relationships. Try to stay positive and support each other as you learn how to parent together. Asking how your partner is going lets your partner know you care. Negotiating and sharing expectations is good practice for later parenting. This can be about everything from deciding on paid work arrangements to who cooks dinner.
10. Look after Yourself.
You'll be better able to look after your baby and support your partner. You can keep your energy up with healthy food choices and as much sleep and rest as you can – even if it's not at night.
Being a Dad is such a special gift....enjoy every moment.