I Used Snotty Boss For A Week...Here's What Happened
I'm a Perth Mum - 3 year old Harvey and 8 month old Kai. I work part time as a florist, which means the boys are in day care 3 days a week.
Daycare means germs, and over the last few years, I've dealt with my fair share of snotty noses. Just as one cold clears up, the next runny noses starts.
I have tried lots of ways to clear their nose, because the boys can't blow it themselves. So I've become a bit of a snot expert.
Here's my journey....
Aspirator 1
The first snot gadget I bought was a cheap squeezy bulb, from the local pharmacy. Trying to hold a wriggly baby while squeezing it, inserting it, and releasing the bulb was a nightmare.
The nozzle was hard plastic and the suction only lasted 1 second, so I had to squeeze and release about 15 times to actually get anything out. By then, Harvey was screaming. And pulling it apart to rinse was so hard. Result - fail and frustration.
Aspirator 2
I bought our next nose cleaner just after Kai was born. It had a manual suction tube which linked his nose to my mouth. Getting the right position was hard, and after inhaling my breathe 5 times to create the suction, I almost felt faint.
It had a spongy filter in the tube, but I always worried about the germs getting into my mouth. I figured if my breath got through the filter, so would the virus particles. If I could breathe in strongly for 5 seconds, we could get some snot out. I usually passed the job onto my husband, as he had more lung capacity. Result - uncomfortable and minimal snot removed.
I thought these manual aspirators were my only option.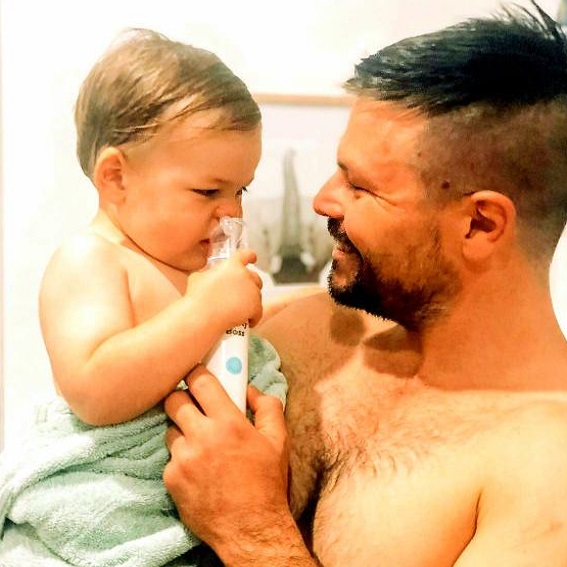 Aspirator 3
Then a month ago, my friend was raving about "Snotty Boss", saying how quick and easy it was to use. It cleared her bub's nose in 10 seconds, with minimal fuss. It was quick to pull apart and clean. It was from an Australian brand, and had 5 star reviews.
It was expensive compared to the other gadgets I'd bought. But I was curious.
The boys had been constantly sick for 3 weeks, and the other aspirators just weren't really helping. I was desperate.
I knew the boys wouldn't be able to blow their own nose until they were around 4 years old, so I figured it was a long term investment.
So I bought one, and within a week I knew it was a G-A-M-E-C-H-A-N-G-E-R!
I wish I hadn't wasted my money on those manual aspirators, and gone straight to this one.
When I contacted the Snotty Noses company to tell them how much I loved it, they asked me to write this blog, to let other parents know about Snotty Boss. When Mums find something that makes their life easier, they want to share it.
So Here's My Review.
The main benefits are that it's battery powered, so with the press of a button, the suction is constant and strong - but not too strong that it will cause nasal damage. We've used it so many times in the last few weeks, and I haven't had to change the batteries yet.
Safety Tested
It's a relief to know Snotty Boss is RoHS tested and registered with TGA Australia. Before buying, I had researched cheaper battery powered aspirators on overseas websites but wanted the reassurance that this product is designed by an Australian company.
So Quiet
Next, the Snotty Boss motor was so quiet. Another friend had bought a cheaper motorised aspirator from a big box baby store, with a motor so loud it nearly scared me. Let alone the baby or toddler!
A Complete Kit
Snotty Boss came with the saline bottle, a variety of soft nozzles, and a carry bag, to keep all the pieces in. It usually just stays in the nappy bag, so we can take it wherever we go.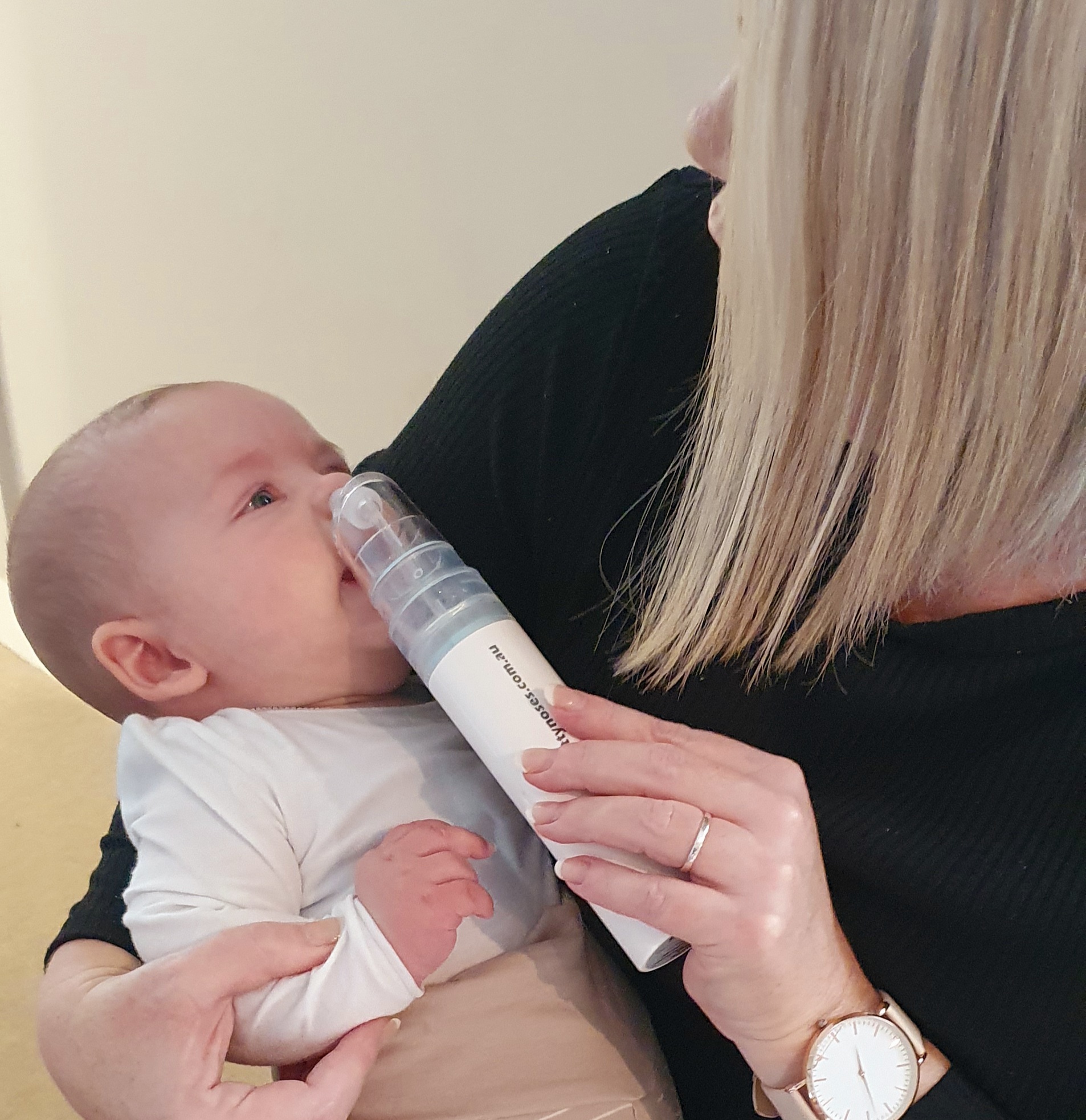 Recover Quicker
Both the boys are happy to have their nose suctioned, and in a few seconds, Snotty Boss has their nose clear. This means the virus is expelled from their body asap, so they recover quicker.
In the past, Kai would often end up with a terrible ear ache or respiratory infection. Now I realise it was because all the mucus was stuck and festering in his nose, which then caused the secondary infection.
So Many Benefits
An unexpected bonus is how much better Kai is sleeping. It wasn't until I learned from the Snotty Noses company that babies breathe through their nose. No wonder Kai would have a bad night when he was sick in the past.
We use Snotty Boss just before he goes to bed, with a squirt of saline and a quick suction, and he's asleep straight away. I've also used Snotty Boss in the middle of the night to keep his nose clear, and he doesn't even wake up!
Lives Up To The Promise
I knew Snotty Boss came with a 30 day Satisfaction Guarantee. So I thought if it didn't work as promised, I'd just return it. But I am a complete convert.
This gadget is with us for the next few years! And now, it's my go-to baby shower present, because it's a parenting essential, at any time of year.
I hope you've enjoyed my review. Do yourself a favour and be prepared for the next sniffle with Snotty Boss.
You can click the button to read more reviews and watch the videos. It's incredible.

PS: After purchasing, I also found out that Snotty Boss:
- is rated No. 1 Nasal Aspirator on Mum's Grapevine Australia,
- won SILVER in the My Child Australia "Best Baby Care" Awards and
- won GOLD for "Best Product Innovation" at the Roar Awards Australia.
Definitely a thumbs up from me.
Disclaimer: I'm not a medical professional or child development expert. This article is my personal opinion of Snotty Boss and how it helped my family. Please seek further advice from your health practioner if unsure.
Photo Credits to: @shannon_gibb, @danii_wintz, @angela_petersen, @kel_fit_mum