Snotty Boss - The Australian Sniffle Solution Helping Parents and Children Worldwide
Brisbane mother Laura Klein had an idea while raising her three kids that's turned into a global million-dollar business. And the entrepreneur is just getting started.
Laura is a Mother, primary school teacher and now a global million-dollar business founder.
The Brisbane mumpreneur is taking the baby world by storm and has big pharmacy chains in her sights.
Picture credit Josh Woning
Mrs Klein was dealing with all things that come with being a mother, one of those being snotty noses.
The mother of three decided it was time to take a risk and in doing so created the Snotty Boss Nasal Aspirator which is now selling locally and all around the world.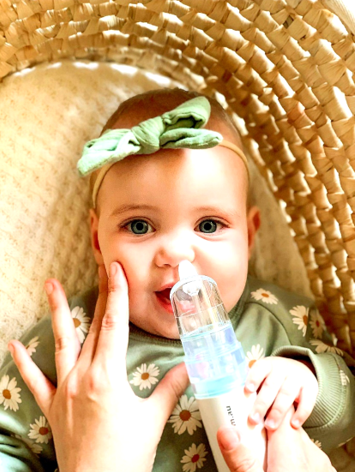 "I knew we were onto something, and that parents needed this product. It was just such a practical solution to a problem every parent will face. After extensive design innovations and safety testing the new model is better than anything else available" Ms Klein said.
"My business is like my fourth child, I've worked so hard. I never went to business college, I don't have a business degree, I have a teaching degree so it's been a journey of making mistakes, learning from that and finding my way. We have worked closely with the TGA Australia, and medical professionals.
"People love seeing someone having a go and going up against these big pharmaceutical companies. Here we are in Brisbane with five staff, and look what we've achieved. The reviews have been mind-blowing."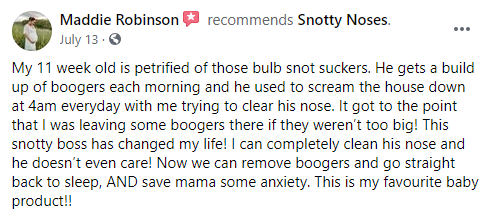 The battery powered Snotty Boss aspirator is a safe and convenient way to clear mucus and snot from the noses of babies, as they can't do it themselves. Little ones feed and sleep so much better with a clear nose.
And if their nose is clear, they recover much quicker from a cold or virus.
"We're on a mission to reach every single family in Australia and make Snotty Boss the go-to baby shower gift. It's just so practical"
Can Snot Sucking Be Cute?
Watch this baby to find out!
Ms Klein got the medical approval, registration and factory production all together to bring Snotty Boss to market and launched in March this year, a week after COVID shut down the country.
"Everything we wanted to do in terms of PR to launch the product was completely shut down. So we launched on Instagram and away we went.
"We sold so many on the first day, we are delighted. With every single one we sell I do a little happy dance. We are sending them to people who are desperate for their babies and toddlers to breathe easier and sleep better."
Have You Used A Cheap Manual Bulb Sucker and Failed?
Watch this Comparison!
After winning "E-Commerce Store of the Year" at the Roar Awards in 2019, the company was a finalist for the Ausmumpreneur Awards for the Retail Business of the Year and Best Baby Product in the Roar Awards 2020.
"You can either shrink into the corner and give up when faced with a challenge, or pivot and think on your feet and make something happen."
Ms Klein's top tips for any other potential mumpreneurs are to start small, invest in testing, ask for help when you need it, know your product and target market and just persist.
Courier Mail subscribers can read full online article here
Date of Publication: 29 August 2020 by Cormac Pearson