Woo hoo - Runner Up E-commerce Store of the Year
September has been a big month at Snotty Noses Headquarters in Brisbane. One of the highlights was Boss Mum Laura attending the annual Aus Mumpreneur Conference and Awards in Melbourne. Here's her reflection....
It's always such a joy to step away from your business for a few days. It allows us a fresh perspective, and an opportunity to think broadly about the business and possibilities for the future. I look forward to this trip to Melbourne every year, and the fact that we were nominated for 2 awards was the icing on the cake.
The first day of the conference involves an interview with the judging panel, as they dig deeper into your business, with a few curly questions. It definitely requires to "know your numbers" and articulate your achievements, challenges and growth opportunities for the year. My judges were very experienced e-commerce veterans - Dan from B-Box and Emma from Expressions Australia.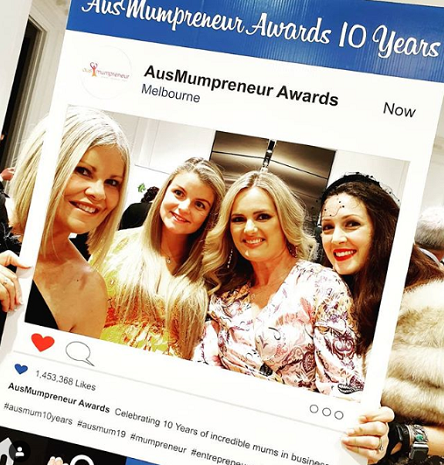 After the judging, it's an opportunity to relax and enjoy the guest speakers from a range of product and service based businesses.
Emma from Cozi-Go talked about her ups and downs with design and manufacturing in China, including receiving a first shipment of stock valued at 25K that was totally broken and unsaleable!! Talk about resilient! She bounced back and has achieved amazing national and international sales, and numerous industry awards. She has secured a spot on Studio 10 in October, to discuss all things business and women as entrepreneurs, with Eileen from Sleepy Bubs and Helen from Buggy Cart
Next on stage was Cinzia from The Smoothie Bombs. She gave us an insight into the incredibly powerful social media platforms she has used to grow her business and establish her brand around the world. Using Instagram, she began with very simple videos of herself and her daughter mixing up smoothies. Then her customers started doing the same thing and tagging her. She also reached out to huge stockists like Anthropologie via Instagram, by liking and commenting on their posts, until Anthrolopologie came knocking on her door to find out who this Smoothie Bomb lady really was. She is now stocked in their stores and the rest is history.
A discussion panel was hosted by Julia from Nail Snail, and covered topics such as manufacturing contracts, quality control, legal checks, financing and profitability. A common theme was backing yourself, testing your concept with a small order quantity first, due diligence with quality control, and realising it may take 1-3 years before becoming profitable. Each business owner had experienced highs and lows, wins and total uncertainty. But belief and resilience to not give up shone through.
Jordan from Bare and Boho made the journey to the awards even though she was 7 months pregnant. Her brand first came to prominence on Shark Tank, where she secured a deal with Dr Glen Richards, who has offered both financial investment and crucial tactical business advice to allow Jordan to grow her business to be stocked in 9 countries around the world. Jordan also gave details of a huge deal she negotiated with a big brand retailer, which will launch in January.
Mariana from The Well Store gave an emotional recount of her business beginnings, when her mother was diagnosed with a terminal illness and then shortly after so was her father. The hunt for healthy and natural alternatives led her to find out the distressing truth about the products she and her family were using. And her brand was born.
Previous Mumpreneur of the Year Monica from Whole Kids Foods detailed the humble beginning of their organic food brand, using their entire house deposit to fund the first production run of their products. They still remember their first sale of a box of organic sultanas to Andy at the Melbourne Street Markets. She showcased the way the awards skyrocketed their profile in Australia and overseas, and allowed them momentum and exposure to expand. The success of their business has now expanded into an amazing charity venture. In partnership with Plan International, Whole Kids have aimed to provide half a million breakfasts to school children in Cambodia through The World Food Program.
From humble beginnings as a lactation consultant, Pinky Mckay and her team at Boobie Bikkies have transformed the lactation cookie market, backed by research and a passion to support breastfeeding mothers in Australia and New Zealand. It was an honour to hear their journey, and how they secured a deal with Chemist Warehouse, to be stocked in 300 stores nationwide. They went on to win the top award for the conference, as Mumpreneurs of the Year.
It was an honour to be surrounded by passionate, resilient, hard working women, who have put their heart and soul into realising a dream. So many stories, and so much inspiration. xx