Top 5 Essential Oils for Baby Colds
When your little one is sick with a cold, flu or Covid-19, parents feel very stressed. Babies and children struggle to breathe, feed and sleep.
We must understand that common colds and flu are viral infections, which means there is no medicine that will "cure" them. There is no quick fix, and it can take days or weeks for the infection/virus to be eliminated from the body.
During this time, parents are looking for natural and safe ways to relieve symptoms, including runny nose and cough, and help their child feel more comfortable.
The interplay of plants and human health has been documented for thousands of years.
Essential oils are the substance extracted from the flowers, leaves, stems, roots, bark or seeds of a plant.
Essential oils diffused through an ultrasonic vaporiser, like Hush Cool Mist, can be an effective way to manage symptoms. The water particles are coated with the natural, botanical goodness of plant materials, and released as a fine mist into the air, which is absorbed into the body through the breath and skin.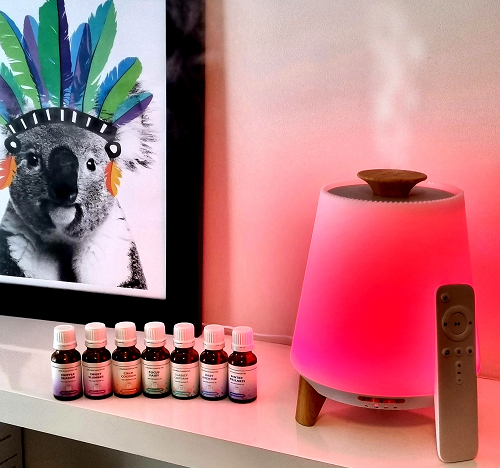 Parents need to ensure the essential oils they are using are 100% pure, and preferably certified organic.
Parents need to stay away from oils that are "fragrant essence" or "fragrance oil" or "scented oil", which are synthetic copies of plant material. These "fakes" are cheap, made in a laboratory and designed to smell like a real plant eg lavender, but are a chemical blend of ingredients, with minimal or no plant ingredients. Therefore these fakes have no medicinal or health benefits. Parents should read labels carefully, and only use 100% pure essential oils, for their family's wellbeing. .
The qualified aromatherapists at Australian Botanical Products advise that essential oils should be diluted in water in the correct strength, and only used with children over 3 months. For babies under that age, plain tap water in an ultrasonic vaporiser can still hydrate and purify the air, to assist breathing and sleeping.
The following diagram shows how pure essential oils are absorbed into the body, via vapour inhalation or topical application to the skin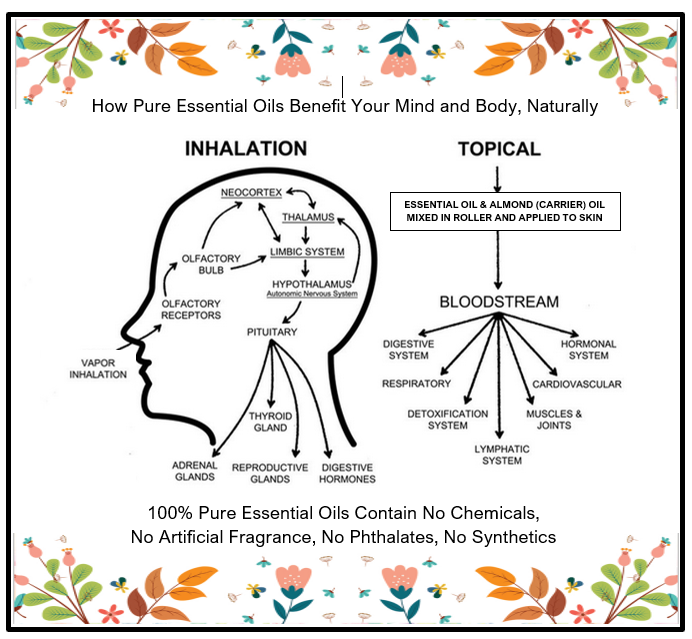 Parents wonder which essential oils are best for baby cold and flu symptoms.
Aromatherapists recommend the following essential oils as the top 5 for child cold relief:
- Eucalptus (Radiata): It is a natural expectorant that is scientifically proven to unclog respiratory congestion in babies. However, the oil should come from Eucalyptus Radiata which is different from Eucalyptus globulus (should only be used with children over 2 years)
- Tea Tree: a natural antimicrobial for cold and flu relief, and can also be used as a natural disinfectant, to kill germs on surfaces and in the air.
- Cedarwood: can reduce coughs and discharges phlegm from the lungs and respiratory tract, thereby relieving congestion.
- Lemon Myrtle: native to Australia, the plant oil is a powerful astringent, with antiseptic, antifungal, and antiviral properties, plus the bonus of a beautiful fresh aroma.
- Lemon: with antioxidant and anti-inflammatory properties, it can support the immune system and fight respiratory conditions wheezing, colds, and coughs.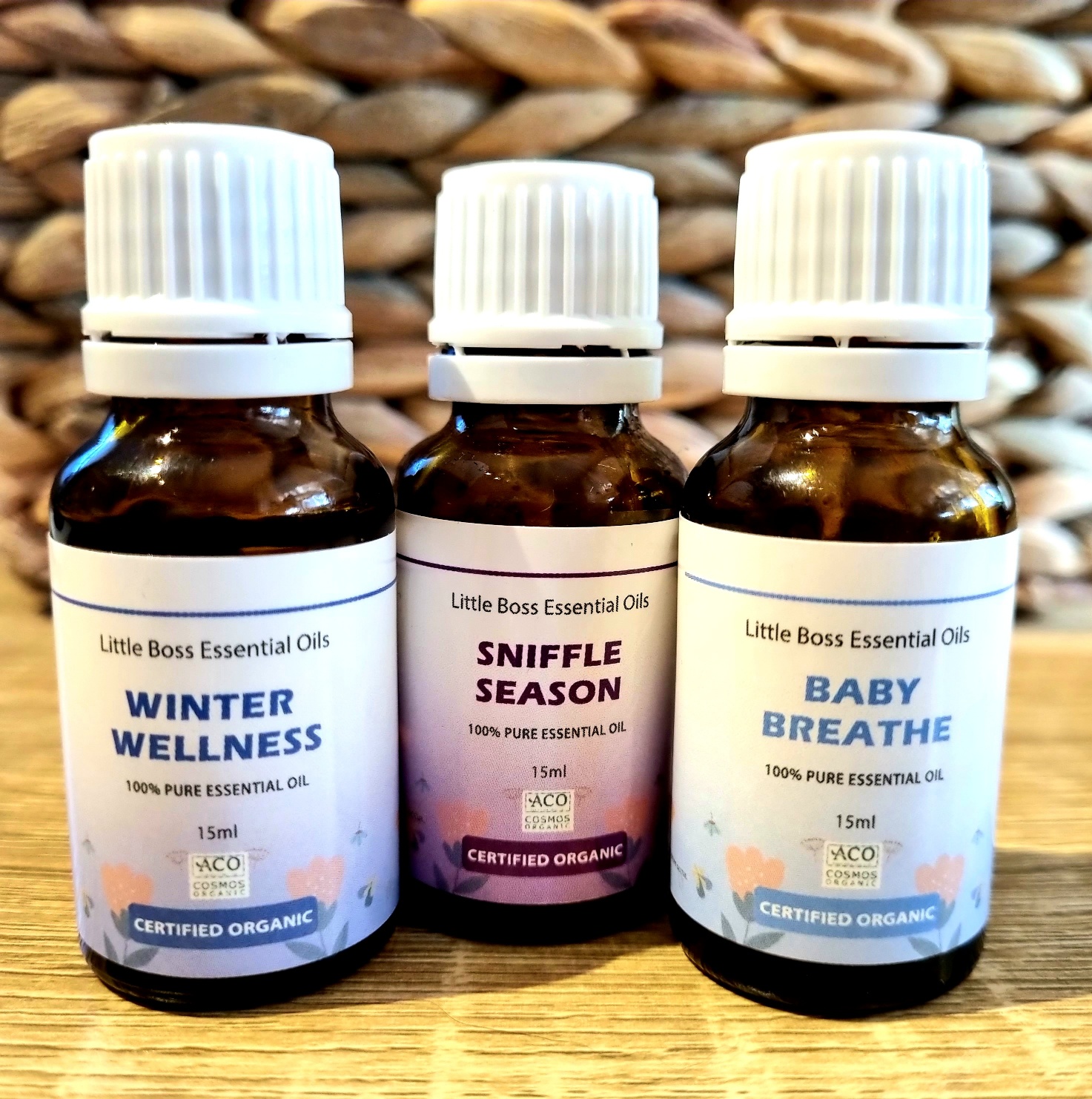 Our Australian-made 100% pure, certified organic essential oils are Baby Breathe, Winter Wellness and Sniffle Season. They have carefully blended ingredients by qualified aromatherapists in Melbourne to support the health and wellbeing of children and adults.
Baby Breathe: Lemon, Cedarwood, Scotch Pine, Sweet Majoram, Tea Tree, Lemongrass. Does not contain Eucalyptus.
Sniffle Season: Eucalyptus (Radiata), Lemon Myrtle, Cedarwood, Sweet Majoram.
Winter Wellness: Organic Eucalyptus (Radiata), Cedarwood, Organic Lemon, Sweet Marjoram, Nialouli, Tea Tree, Juniperberry.
All 3 blends can be effective support for cold and flu symptoms. Whilst they can all support good health, the smell of the different blended oils is a personal preference.
We recommend dilution in Hush Vaporiser (1-3 drops per 100ml of water) or dilution in carrier oil for skin application (eg almond oil, jojoba oil, 4-16 drops per 10ml of oil).
Our most popular value pack is 5 certified organic, Australian-made essential oils for $99, with a free mist and skin roller bottle. Available HERE.
We recommend using Hush Vaporiser and Essential Oils all year round to naturally support good health and good sleep for your little one
Disclaimer: We are not doctors or healthcare professionals or aromatherapists. Our products are offered for sale with general use guidelines provided by the manufacturer. Should any sensitivity to our products occur, please discontinue use. Our products are not intended to diagnose, treat, and/or take the place of medical treatment prescribed by a doctor or medical professional.
Health benefits are based on traditional aromatherapy and do not replace professional medical advice. Some essential oils have contraindications for safe use. Consult your health care professional or aromatherapist for advice on appropriate use and dosage of essential oils, especially for pre-existing conditions, pregnancy and children under 2 years.