Your Child's Health is your No. 1 Priority
4 Natural Products to Breathe and Sleep Better
"No Risk" 60 Day Satisfaction* Guarantee
Buy this kit and if it's not the easiest and most effective way to remove nasal snot and help your child breathe and sleep better, simply return it within 30 days for a refund*
Your Child Needs To Breathe Well and Sleep Well
- Good sleep is the number 1 way to boost immunity
- Help your little one breathe better, sleep better, feed better and feel better with our value pack of safe and effective products.
- Used, trusted and recommended by 1000s of Australian families
- Newborns and babies breathe through their nose, so a blocked nose is dangerous and uncomfortable.
- Save time and money on doctor visits, chemists and medicines by removing nasal congestion in 10 seconds

- Minimise the risk of secondary ear, adenoid and respiratory infection
- Maximise fast, natural recovery from viruses, colds, hayfever and teething congestion
- This bundle combines the benefits of snot suction, humidified air via mist dispersion, aromatherapy, light therapy and sound therapy, to create an optimised environment to breathe well and sleep better.
Your Value Pack Contains....
1 x "Snotty Boss" Nasal Aspirator - ultra-quiet, battery powered, gently and quickly removes and clears nasal mucus in seconds.
1 x HUSH Ultrasonic 6 in 1 Sleep Aid - vaporiser, aromatherapy diffuser, air purifier, red light therapy, sound therapy, & Bluetooth speaker.
2 x Decorative Hush Covers (Timber and Black)
1 x Certified Organic Essential Oil for Congestion: "Winter Wellness" or "Baby Breathe"
1 x Certified Organic Essential Oil for Sleep: "Sweet Slumber" or "Calm Cocoon"
Plus Bonus Items
- a refillable 10 ml saline spray bottle. It comes empty and you can fill with homemade saline or breastmilk to squirt up bub's nose first, to loosen any mucus.
- a handy drawstring travel bag to keep the aspirator clean and organised
We are the "Sniffle and Sleep" Solution Experts
Why buy from snottynoses.com.au?
- the complete kit for sniffle and sleep support - 4 amazing products, backed by 1000s of reviews
- the best battery powered snot sucker on the Australian market
- the safest, long-running ultrasonic vaporiser and 2 certified organic oils
- exclusive 60 day satisfaction guarantee, love it or return it*
- includes a refillable saline spray bottle: an essential first step to relieving congestion
- includes a handy drawstring carry pouch to keep all your essentials clean and organised
- the fastest dispatch in Australia, with express post options available
- an invitation to join our private Facebook Sniffle Solutions Group, where you can chat and connect with other parents
- exclusive online user guide, with videos and trouble shooting, plus phone support
- an amazing rewards program, and bonuses for referring friends
- join our social media tribes via @snottynosesaustralia with special offers, giveaways and samples
- support our charity project: $1 from each order helps our work with Humpty Dumpty Foundation, purchasing essential medical equipment for sick children
- it's more than just a great collection of products, it's the connection and support you need to help your little one breathe well and sleep well.
Hush is White/Timber.
Kit contains 2 interchangeable, removable decorative covers.

1000s of happy customers......
Let's discover more about each of these amazing products, that will transform the way you can respond to your little one's cold, cough congestion and sleep....
The "Snotty Boss" Nasal Aspirator
The Snotty Boss is a NEW, quieter, motorised aspirator.
Rated No. 1 Nasal Aspirator on Mum's Grapevine 2021 Essentials
TGA approved as a safe medical device.
Quickly, easily, and gently clear your child's nasal congestion and mucus IN SECONDS, allowing them to breathe, feed, sleep and feel better.
Complete kit containing
- motorised aspirator
- 4 nozzles (for every age and snot type)
- refillable saline bottle
- lid and carry bag
Babies and young children can't blow their own noses, so we have the solution.
Snotty Boss is so much more effective than the traditional manual bulb suckers and ultra-quiet.
Babies can only breathe through their nose for the first 4-6 months. Their nostrils are so small that even the tiniest blockage can make everything more difficult and frustrating, including breathing and feeding.
Constant, steady suction - this is the key to its success. The new design is the quietest battery powered unit on the market and has a larger collection cup. It's really like a little snot vacuum.
Ergonomically designed to be used 1 handed, while your child is sitting up or lying down, the Snotty Boss can be used multiple times a day, with no sore, red noses from constant tissue use.
Plus, you'll be removing the snot high in the nasal passages, which means it won't be stagnant and fester, so is less likely to cause a secondary ear or chest infection.
It's totally portable too, just tuck it into your bag and take it with you wherever you go.
Endorsed by the Australian Breastfeeding Association and a sell-out at the Pregnancy and Baby Expos in Australia - because it works!
Remember, it's waterproof and easy to clean all parts, simply rinse the Snotty Boss nozzles and collection cup under hot water after each use. The internal motor can be flushed and cleaned at any time.
After purchase, you get exclusive access to a full online user guide and private Facebook group, with videos, tips and tricks to help you get the best out of the Snotty Boss.
The Snotty Boss Aspirator can be purchased separately for just $84.95 and is proudly stocked in selected Terry White, Priceline, Soul Pattinson, Pharmacy4Less, Blooms, Pharmacy 1st and Amcal pharmcies around Australia. Read more information here...
12 month warranty, with extended warranty available for $9.95 (does not include damage/loss to accessories)
Watch baby Aaliyah get her nose cleared here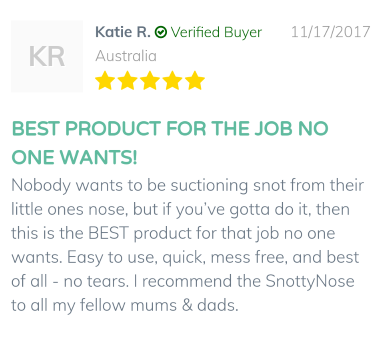 The Hush Ultrasonic Vaporiser
- Hush Ultrasonic Vaporiser is a stylish, long-running, white/wood ultrasonic vaporiser.
- A healthy and natural approach to good sleep and good health, every day and night, all year round.
- Includes 2 decorative covers - black and timber clouds and swish.

- Covers can be personalised with your child's name (use whiteboard marker)
- Unique 6-in-1 functionality - aromatherapy vaporiser, ionizer, air purifier, red light therapy, sound therapy and Bluetooth speaker.
- Constantly purifies and humidifies the air safely with ultrasonic mist, to help your little one breathe and sleep better.
- The Hush and Oil Kit can be purchased separately for $139. Read more about this amazing machine here...
Essential Oils
This value bundle comes with 2 x 15ml bottles of 100% pure, certified organic essential oil. Enjoy the therapeutic benefits of pure plant extracts, with no nasties or synthetics. Choose from:
Winter Wellness - Sniffle busting blend of Organic Eucalyptus (Radiata), Cedarwood, Organic Lemon, Sweet Marjoram, Nialouli, Tea Tree, Organic Juniperberry. Helps supports congestion.
Baby Breathe - Simple, light blend of Lemon, Cedarwood, Frankincense, Pine, Sweet Majoram, Juniperberry, Cypress, Tea Tree, Lemongrass, Basil and Niaouli. Ideal for young children, to promote restful sleep and respiratory health. DOES NOT contain Eucalyptus.
Sweet Slumber - Calming blend of Lavender, Cedarwood, Non-Phototoxic Bergamot, Mandarin, Clary Sage, Roman Chamomile and Vetiver. Organic support for sleep, soothe and de-stress for children and adults.
Calm Cocoon - A relaxing, citrus infusion to calm and soothe. May assist anxiety and night terrors. Sweet Orange, Bergamot, Cedarwood, Mandarin, Vetiver, Roman Chamomile. DOES NOT contain Lavender
Frequently Asked Questions
What are the health benefits of using the Hush 6 in 1 Vaporiser everyday?
We have sold thousands of ultrasonic vaporisers, and have been blown away by the feedback from customers of all ages, who have reported improvements in
- asthma
- congestion/respiratory difficulties
- eczema
- croup
- snoring
- allergies
- dry skin/dry eyes from heating or cooling airconditioners
- cough and cold symptoms....and more!

Every particle of mist is coated with the healing essential oils, which can be breathed and absorbed. In times of illness, use the Winter Rescue Remedy Oil. In good health, use the Snooze Remedy Oil.


How Often Should I Use This Vaporiser in My Child's Room?
We recommend using these machines 365 days and nights a year - not just in times of acute illness.
The Aroma Snooze should be used from birth (plain tap water only, until 3 months) through to adulthood.
It will purify and safely humidify the air in your home or bedroom.
Why is Cool Mist Technology a Great Choice for Health and Wellbeing?
'Cool mist' technology is recommended by health professionals, concerned that traditional 'heating' vaporisers (like the Vicks and Euky Bear units) can produce excess condensation which settles on walls and soft furnishings, and can potentially cause mould spores to grow in the room and can be ingested into the lungs.
I Always Thought Warm Steam Was Best For Croup and Congestion. Is That Not the Case?
There is no doubt that warm steam has medical and therapeutic benefits for children when they are congested or display croup-like symptoms.
However, the current recommendation is that warm steam in a "short burst" is best. For example, 10 minutes in a steamy bathroom, breathing in the vapours and opening the air ways, will certainly ease congestion and croup symptoms.
But warm steam from a heated vaporiser as a long term, overnight routine in the bedroom may not be the best solution, as it creates a lot of condensation, making the room warm and stuffy.
The condensation can make the walls dripping wet, and the moisture can settle on soft furnishings, where mould spores can grow.
We love to support community projects.
$1 from your order helps us partner with Humpty Dumpty Foundation
Safety Information - Essential Oils:
Essential oils are a natural, yet powerful substance.
Not recommended for use with babies under 3 months - read more on our blog here.
Plain tap water can be used in the Aroma Bloom from birth - 3 months, to purify and hydrate the air.
Essential oils should never be ingested.
If swallowed, do NOT induce vomiting and contact the Poisons Information Centre on 13 11 26.
Keep essential oils out of the reach of children.
Store below 30 degrees and out of direct sunlight. Discontinue use if sensitivity occurs.
Health benefits are based on traditional aromatherapy and do not replace professional medical advice.
Consult your health care professional or aromatherapist for advice on appropriate use and dosage of essential oils, especially for pre-existing medical conditions, including pregnancy.

Postage and Handling
We strive to keep delivery costs at a minimum, and only charge the base rate provided by our carriers, however this parcel is bulky and heavy. This pack will be lodged with Australia Post or Sendle.com Couriers on the same business day (if ordered before 8am EST) or the next business day, GUARANTEED. We keep all products in our on-site warehouse, so they are ready to ship immediately.
Standard delivery $9.95 Express Post: $15.95. Adding other products may put your order into the next weight category, and additional express fees may apply. Free standard shipping over $150, so stock up on essentials now!
Special note to our beautiful customers in WA, NT and TAS - standard post can take more than 8 business days from Brisbane, so we urge you to consider Express Post options, to ensure speedy delivery of your parcel.
Local pickup from Woolloongabba - our team will text when your order is ready to collect.
Our Business - Your Confidence
Customers trust their purchase from us. We are a family based business in Brisbane and offer a 60 day satisfaction guarantee. Watch our cool new video...
* Satisfaction Guarantee: This value pack comes with a "Satisfaction Guarantee". Purchase this value pack and if it doesn't help your child breathe better and sleep better, please return it within 60 days for a refund of the purchase price, less a $7 processing fee. All details are included on All the Legals page. We are proud to offer this "Satisfaction Guarantee" for the Snotty Boss Nasal Aspirator and Hush Vaporiser and Oils, as we are so confident you'll be delighted with the results.
We have sold 1000s of the bundle packs and we value each every sale, by offering outstanding customer service, fast dispatch, and a truly brilliant product.
The Snotty Noses Team use all of these products with our own families, so we understand the importance of safe and effective devices.
Disclaimer: We are not doctors or healthcare professionals or aromatherapists. Our products are offered for sale with general use guidelines provided by the manufacturer. Should any sensitivity to our products occur, please discontinue use. Our products are not intended to diagnose, treat, and/or take the place of medical treatment prescribed by a doctor or medical professional.
A better choice than the Glow Dreaming
An organic, natural solution for good health and good sleep.
Rub a little on the wrist, chest and feet for soothing relief.
Click here for the Value Pack
Availability:
IN STOCK: Standard delivery $9.95 Express Post $15.95. Free delivery for orders over $150. Free local pick up from Brisbane.